The Patient Experience Program has four pillars:
Choice: Recognizing patients have a choice for where they receive their healthcare. Staff behaviors must be customer-oriented and consistent, while our community feels that we are earning their loyalty and trust.
Commitment: Declaring definitively that each member of the St. Peter's Health family will deliver the best service to our customers and that this is an organizational expectation of us to our community.
Collaboration: Messaging and processes that provide the perception that we are informing and asking our patients to participate in their care needs and not practicing medicine on them.
Community: As part of engendering loyalty and trust, emphasizing that St. Peter's Health is a vital and active participant in our community's health.
These pillars are represented in the program's mission statement:
"St. Peters Health is honored to have our community choose us to provide their healthcare. Our commitment is that each member of St. Peter's Health will deliver the best experience to each of our clients. We will partner with our clients and will provide them with the tools and information needed to guide them towards a higher state of care. Together we will continue to make our community a thriving place to live, work, and receive healthcare."
Patient Experience: Roots to Results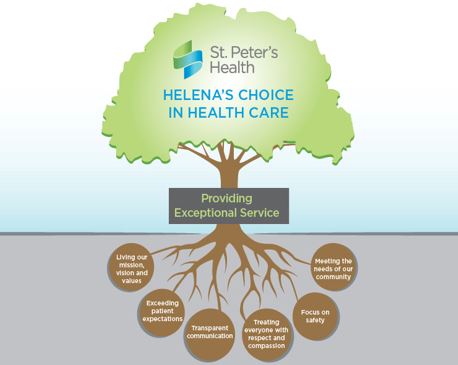 Roots to Results illustrates six fundamental principles that our organization takes to provide exceptional service to our community and become Helena's choice for healthcare.
Exceeding Patient Expectations
What are the Patients Expectations, and how do we know them?
Ask
Addressing concerns, comments, little issues before discharge
Patients' expectations are based on several diverse factors
Prior experience
Word of mouth
Advertising and media
Being clinically excellent doesn't matter if the patient doesn't have a great experience
Do we assume or expect patients already know?
Educate, converse, discuss
"Patients don't care how much you know until they know how much you care." (Anonymous)
Transparent Communication
Upfront and honest, but polite and always helpful. TACT is our organization's "Always Behavior."
T- Take Ownership
A - Acknowledge and Apologize
C- Correct and Communicate
T- Thank, Track, and Trend
Treating Everyone with Respect and Compassion
People want to know they are heard and they matter\
Every patient is a VIP
Focus on Safety
Safe, quality care given in a patient-centered environment is the patients' experience
Safe for patient + safe for staff = higher patient satisfaction
When evidence-based processes are in place everyone can focus on delivering safe, quality care
Meeting the Needs of the Community
Utilizing Community feedback is the greatest catalyst for change and improvement
Community has many choices for healthcare. We cannot reinforce this enough with our staff. This is a very significant "why" behind using TACT.
Patient Experience Strategy
Accomplishments
Created Patient Experience program
TACT rollout continues throughout SPH
Patient Experience is part of the patient Centered Services Team integrating Patient Experience with Patient Advocacy, and Patient Safety
Created Community Experience Group and Outreach programs to share information and have dialogue with community members on ways to improve customer service
Staff Rounding
Increased staff education of TACT and customer service
Press Ganey

Added in Providers who are not being surveyed
Provider locations up to date
Added in Ambulatory Surgery survey which will be mandated end of 2019
Shortened survey length to become more precise
Capture more feedback from patients/Qualitative data 
Objectives for 2019/2020
Greater Online Presence

Adding in star rating to go live summer 2019 with provider video
Press Ganey comments to be posted along with star rating
Online reviews to be addressed and delegated to appropriate stakeholders

TACT award/ TACT Champion- Designating champions to be recognized throughout the year
Secret Shopper Observations
Elbow-Support coaching for individual departments' personnel
Increase patient rounding