We want to help build the foundation for your nursing journey. Designed to provide tools, resources and hands-on experiences, our year-long Nurse Residency Program helps you apply your nursing knowledge in clinical practice by creating connections and fostering collaboration throughout the system. It is open to all new graduate Registered Nurses (RN) hired at St. Peter's.
'Growth. Empowering. Community.'

~Recent program graduates describing the program
What to expect
You will join fellow residents for a wide variety of learning and hands-on experiences. 
Skills sessions and content reviews are scheduled twice per month for the first five months, and once per month until graduation from residency program, including tours, classroom learning, presentations by  multidisciplinary personnel and case studies. 
Evidence based research project 
Mentorship through past and present program Residents
Support resources include debriefing sessions, access to a peer support group, access to nursing leaders, professional development opportunities, shadow opportunities in clinical areas, and didactic/classroom instructions.
Shadowing opportunities include the chance to interface with professionals from across the organization, including members of the PT/OT teams, palliate care, pharmacy, risk management, patient experience, laboratory, informatics, environmental services, skin team, chaplain, radiology/ultrasound and respiratory therapy.
How to apply
This program is ideal for RNs with 0-1 year inpatient, clinic or procedure area nursing experience. All new graduate RN hires are encouraged to participate.
If you're interested in participating in the Nurse Residency Program contact: 
Jennie Belt, Lead Instructor
jbelt@sphealth.org
406-447-2996
Tessa McGree, Lead Instructor
TMcgree@sphealth.org
406-447-2667
Sevda Raghib, Senior Director of People Services
SRaghib@sphealth.org
406-447-2840
---
Meet our graduates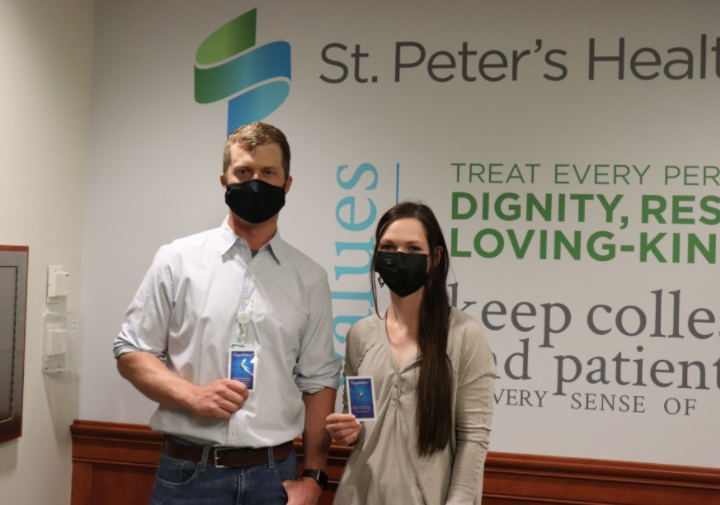 Congratulations to our first graduating class
Kevin Dow, RN, Kylie MacDonald, RN and Dana Roberson, RN (not pictured) were celebrated in June 2021 as the first graduates of St. Peter's Nurse Residency program. The year-long program launched in July 2020 and is designed to help new graduate Registered Nurses build peer relationships, receive more intensive training from multi-disciplinary team members, and participate in hands-on experiences across St. Peter's.