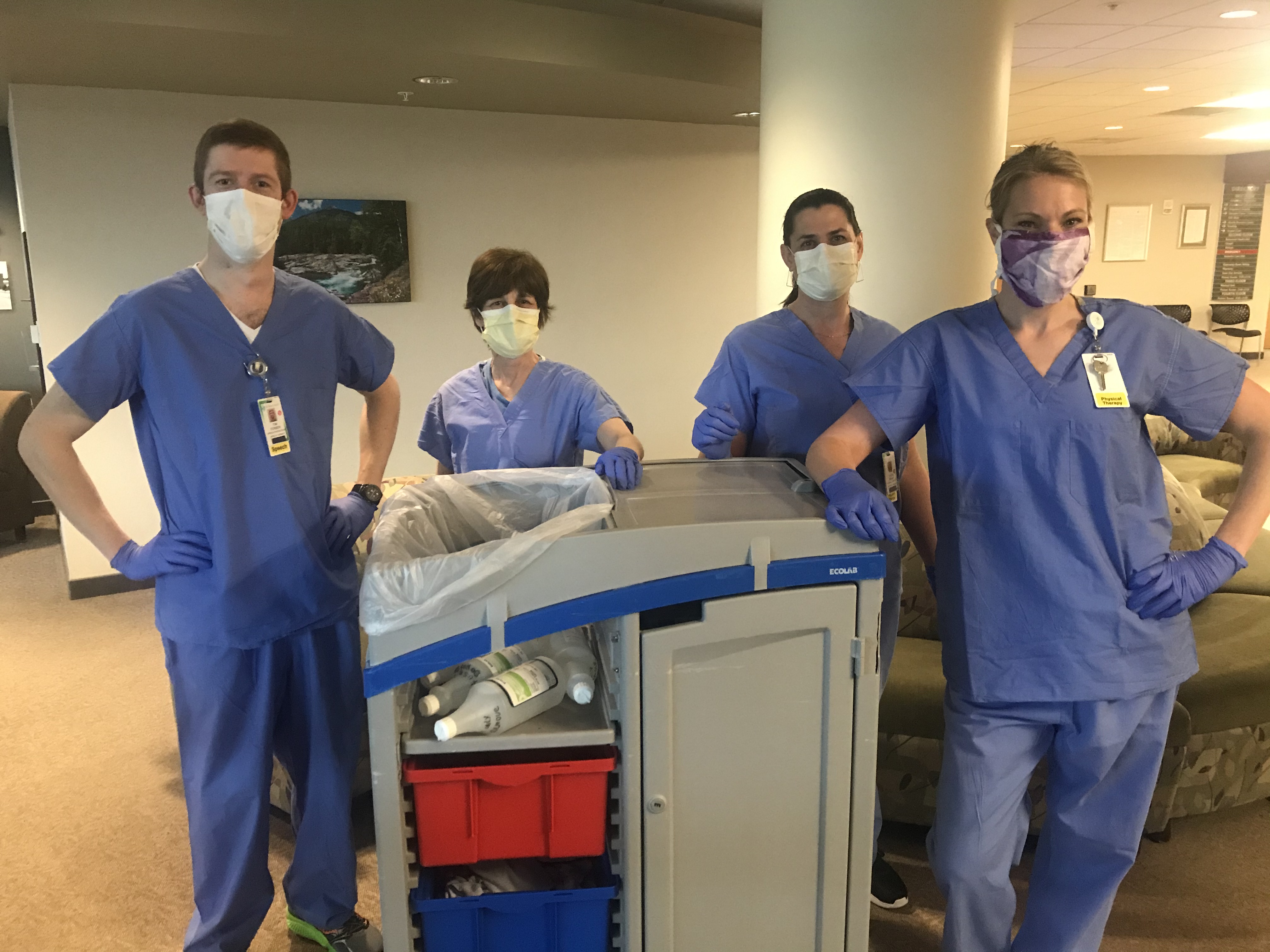 Shannon Williams, PT, DPT, NCS and Dale Koch, MT, MS, NCS are physical therapists by trade. A normal day before COVID-19 included caring for patients in the physical therapy and rehabilitation department at the Regional Medical Center.
Shannon and Dale's world changed after St. Peter's Health temporarily postponed some services to protect patients and caregivers from COVID-19. As a neuro certified specialists, they continue to see some patients who have urgent physical therapy needs, like people with recent brain injuries or people who are experiencing deteriorating neurologic conditions. They also connect with patients over the phone and via email to check-in on their condition and at-home progress.
Since they were seeing fewer patients, Dale and Shannon had the opportunity to be reassigned to help support COVID-19 prevention efforts at St. Peter's Health.
Both physical therapists spent time in the laundry, cleaning and helping with the screening tables at the entrances.
The reassignments allowed Shannon and Dale to continue working. It also gave them a glimpse into other roles at the hospital, providing a new appreciation for the daily work of their colleagues.
"I definitely have a new appreciation for cleaning and laundry. The repetitive movements with laundry can be tough on your body and the cleaning can be somewhat exhausting," said Shannon.
It also reinforced their belief that everyone plays an essential role in delivering high-quality health care. According to Dale,
"Having the opportunity to work in other roles within the organization has reinforced how much teamwork it takes to deliver healthcare and how each role and member of the team is essential.  My time in laundry and the cleaning crew gave me a first-hand experience of the essential "behind the scenes" jobs and the hard-working, dedicated, and fun people all working together to provide excellent care to the community."