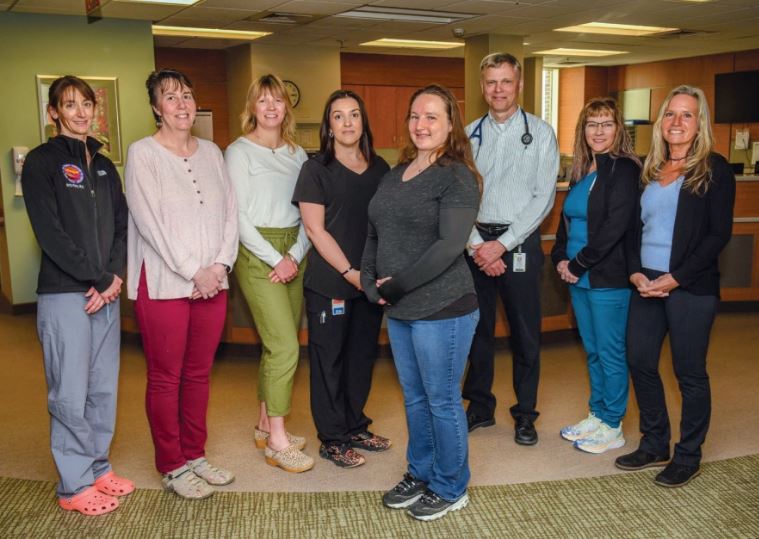 June 5, 2023
St. Peter's dialysis program leads the nation in home dialysis and transplants
When it opened in 1973, the St. Peter's chronic dialysis program became the first of its kind in Montana. Fifty years later, the St. Peter's Dialysis Unit is a nationally ranked program leading the way in at-home dialysis treatments and transplant opportunities that help ease the toll this rigorous treatment takes on patients and their families.
Chronic dialysis treatment became more accessible in 1973 thanks to a congressional act providing Medicare dollars for ongoing dialysis treatments. That's when two kidney failure patients from Butte contacted Dr. Faust Alvarez, a Helena-based Internal Medicine and kidney disease specialist, to see if he could help them move back to Montana by providing chronic hemodialysis treatments. Dr. Alvarez went to work coordinating everything needed to get the new, life-saving program started.
Nancy Pierce, RN, BSN, CNN started learning dialysis in 1974 at St. Peter's. She took over management of the unit in 1975 until her retirement in 2018.
"Dedicated staff ensured that St. Peter's continually upgraded its equipment and machines over the years to provide the most current treatments available," Nancy said.
Managing dialysis at home
When at-home hemodialysis machines emerged as an option for some patients, St. Peter's expanded its program. St. Peter's is the only hospital in Montana with a home dialysis program. More than 40% of its patients are managing their dialysis at home compared to the national average of about 12.6%. 
The at-home option means the world to Helena resident Kalene Pool, who does daily at home peritoneal dialysis treatments to help manage chronic kidney disease caused by Type 1 diabetes.
"Before I started dialysis, I felt absolutely horrible. After starting dialysis I feel so much better," she said. "The option to do dialysis at home has been life-changing. I have a full-time job and a child. For me, [in-center dialysis] every day just wouldn't work."
Chris Neilson completes his at-home hemodialysis treatment in White Sulphur Springs. Not only has the at-home option reduced his travel costs and time, it's ensured he's been able to watch his son grow up.
"It's made it so I could see my son graduate from high school, go to his proms…now he's about to graduate from college," Chris said. "All of these things I've gotten to see that I wouldn't have without dialysis."
Making transplants a priority
According to Dr. Robert LaClair, a nephrologist and the unit's Medical Director, another important factor that distinguishes St. Peter's is the large percentage of patients who receive kidney transplants.
Currently, St. Peter's serves only about 5% of all people on dialysis in Montana. Yet since 2014, upwards of 8% of Montana residents who receive kidney transplants each year are St. Peter's patients. According to data from the United Network for Organ Sharing, in 2021, 11% of all Montana residents who received kidney transplants were St. Peter's patients.
There are significant barriers that prevent people from getting a kidney transplant, but a successful transplant means patients no longer need dialysis. "Transplanted" patients live longer and healthier lives, LaClair said.
"Everyone has to be on board to make a transplant work, from the social workers to the nutritionists and everyone in between," Dr. LaClair said. "We treat each patient as a unique individual. Our approach to care is unique because everything we do is centered on getting a patient a transplant."
Amber Roeder was on dialysis for seven years while living in the Flathead Valley. She began incenter hemodialysis at St. Peter's when she moved to Helena about three years ago.
"The first thing Dr. LaClair said to me was, 'Why are you here? Why haven't you gotten a transplant?' " Amber said. "They did everything in their power to help me get the transplant. I wasn't even with them for a full year when I got transplanted."
Amber recently celebrated her 30th birthday with her husband and 9-year-old twin daughters. "I'm so grateful that I'm here," she said.
"I never feel alone in my care. I can't express the amount of gratitude I have for all of those wonderful people in the unit."
Donor funds upgrade dialysis care
Nearly $1 million in donor funds helped the St. Peter's Dialysis unit purchase 19 Tablo® Hemodialysis System machines for both at-home and in-center use. Tablo systems are more mobile, more user friendly and more efficient. The St. Peter's Health Foundation Dialysis Fund, Elizabeth Vercellin Endowment and the Greatest Need Fund provided $807,500 to fully fund the purchase.