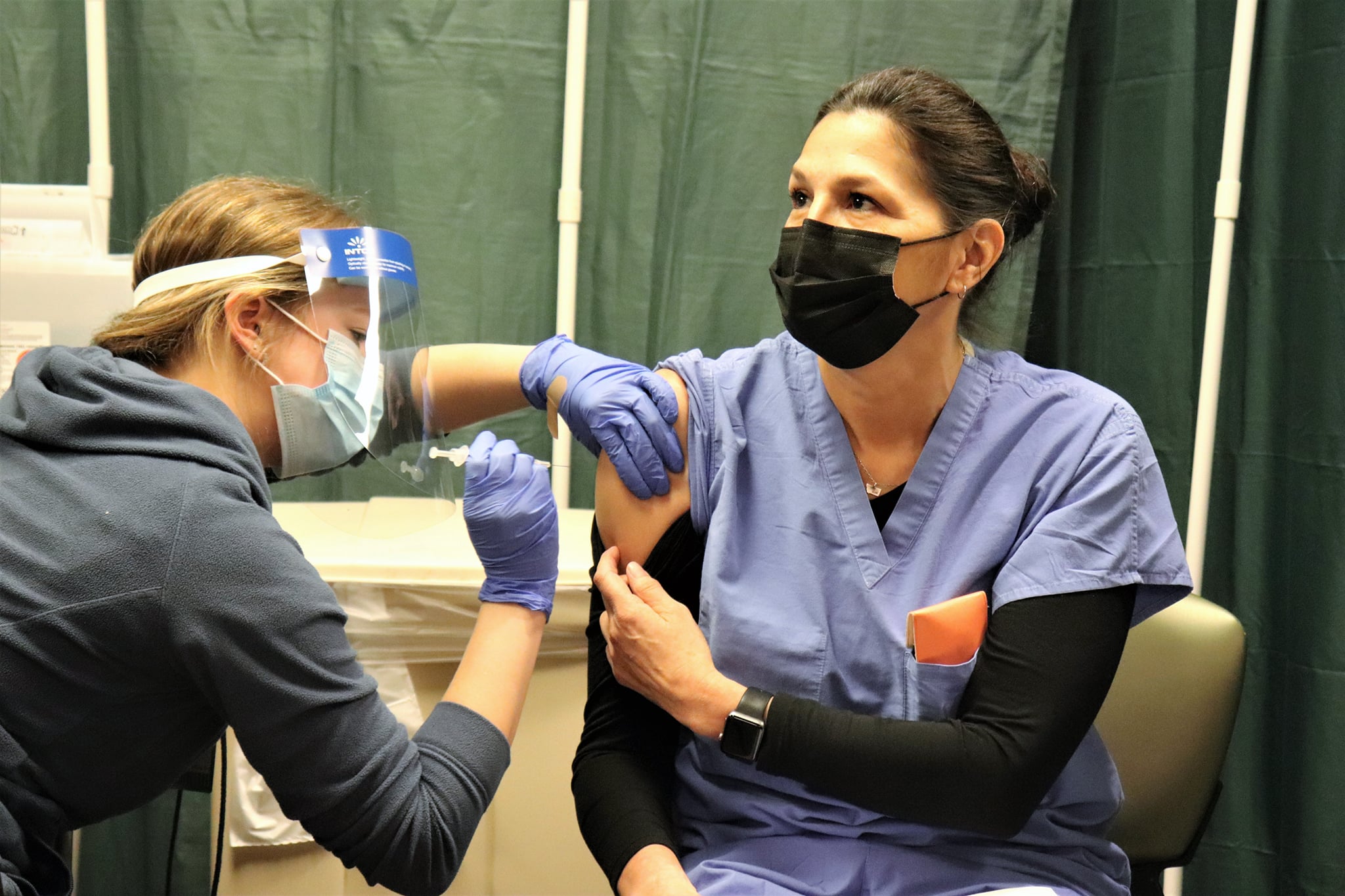 December 30, 2020
By St. Peter's Health Clinical Pharmacy Manager Tom Richardson, PharmD, BCIDP and Hospitalist and Infectious Disease Specialist Dr. Anne Anglim 
In 1796, Scotsman Edward Jenner was the first to show how a vaccine can save lives. Since then, vaccines have saved hundreds of millions of lives, with technology refined over the centuries. In this year, new vaccines are giving us hope.
For the past ten months, we've all made personal sacrifices for the greater good and they have saved lives. 
Many have heard about mRNA COVID-19 vaccines manufactured by both Pfizer and Moderna. There is accurate information available, but there is also a lot of misinformation.
Here are some answers to common questions:
What are the differences between the Modern and Pfizer vaccines?
The two vaccines are very similar. The vaccines have shown almost 95% protection against COVID-19 seven to 10 days after the second dose, and carry similar side effects. At this time, the best vaccine is the one that's available to you as soon as possible. There is no evidence that one is better than the other!
What is an mRNA vaccine? Can the virus mRNA affect human DNA?
mRNA – or messenger RNA – is a molecule, not a living thing. It provides a code for a cell to follow to make a protein specific to the virus. Since this protein is unique to the virus your body recognizes it as foreign and develops antibodies. mRNA vaccines do not enter the nucleus of cells and in fact disappears completely from the body in less than a day.
What are the side effects that people may experience?
St. Peter's Health has now vaccinated over one thousand employees.  The vast majority have had effects no more severe than sore arms, headaches, and tiredness, lasting less than 24-36 hours.  Side effects could be more pronounced after the second shot.  Side effects, though, are good news. They mean the vaccine is working, and the body is recognizing the vaccine and is building protective antibodies. 
Allergic reactions after receiving the COVID-19 vaccine have made headlines. Allergic reactions are a very, very small risk with any vaccine. If you have a history of anaphylaxis to any of the vaccine ingredients you should talk with your provider before getting vaccinated. Those with a history of severe food, drug, or other allergies can get vaccinated. Health care providers will be ready to deal with any adverse effects that may happen.
Why do we need two shots?
Studies show you only receive partial protection after the first shot. The second shot is absolutely necessary; only after the second shot are you realizing the 95% protection rate you read about in the news.
Should people who are pregnant or lactating consider getting the vaccine?
This is a gray area at this time. Pregnancy and lactation aren't a disqualifier but clinical studies did not include pregnant women. Pregnant and lactating women need to weigh the risks/benefits of getting the vaccine vs. getting COVID-19 infection. Please speak with your medical provider to ensure you are making an informed decision.
If I've had COVID-19, should I still get the vaccine?
Yes! People who have had COVID-19 do receive some immunity from the virus. However, this immunity may only last around three months. Vaccination will provide longer and possibly better protection. If you've had COVID-19, you can and should still get vaccinated.
Why do we still need to take preventative measures if we get vaccinated?
We know that the vaccine is extremely effective because it will prevent you from getting sick. However, we do not know if the vaccine prevents you from giving the virus to others. Wearing masks and following other prevention measures helps protect you, others and the community.
Should we be worried about the speed at which the vaccine was developed?
It is normal to have questions about the COVID-19 vaccine, especially since it was created so rapidly. St. Peter's Health endorses the process which led to these vaccines' release. No steps were skipped.  In the years since Jenner applied the first rudimentary vaccine, a worldwide commitment to improving vaccine science has brought humanity this immense achievement.
So here's our final ask:  
Keep up the preventative measures as vaccination will not eliminate risks of virus transmission. Wear a mask, avoid large gatherings, be careful with others, stay home when sick (unless seeking medical care), and practice good hand hygiene and physical distancing. We must continue to embrace effective, everyday measures to slow the spread and save lives as the vaccine is distributed in the coming months.
Please educate yourself and do not spread misinformation. Seek trusted information from respected medical associations and the CDC. Talk with your local provider or pharmacists. Be careful with what you share via social media. Misinformation spreads quickly. 
Consider getting vaccinated when it is available to you. Any of the available COVID-19 vaccines are safe and effective so we recommend getting whichever is made available to you in the coming months. For the vast majority, benefits outweigh any associated risks.