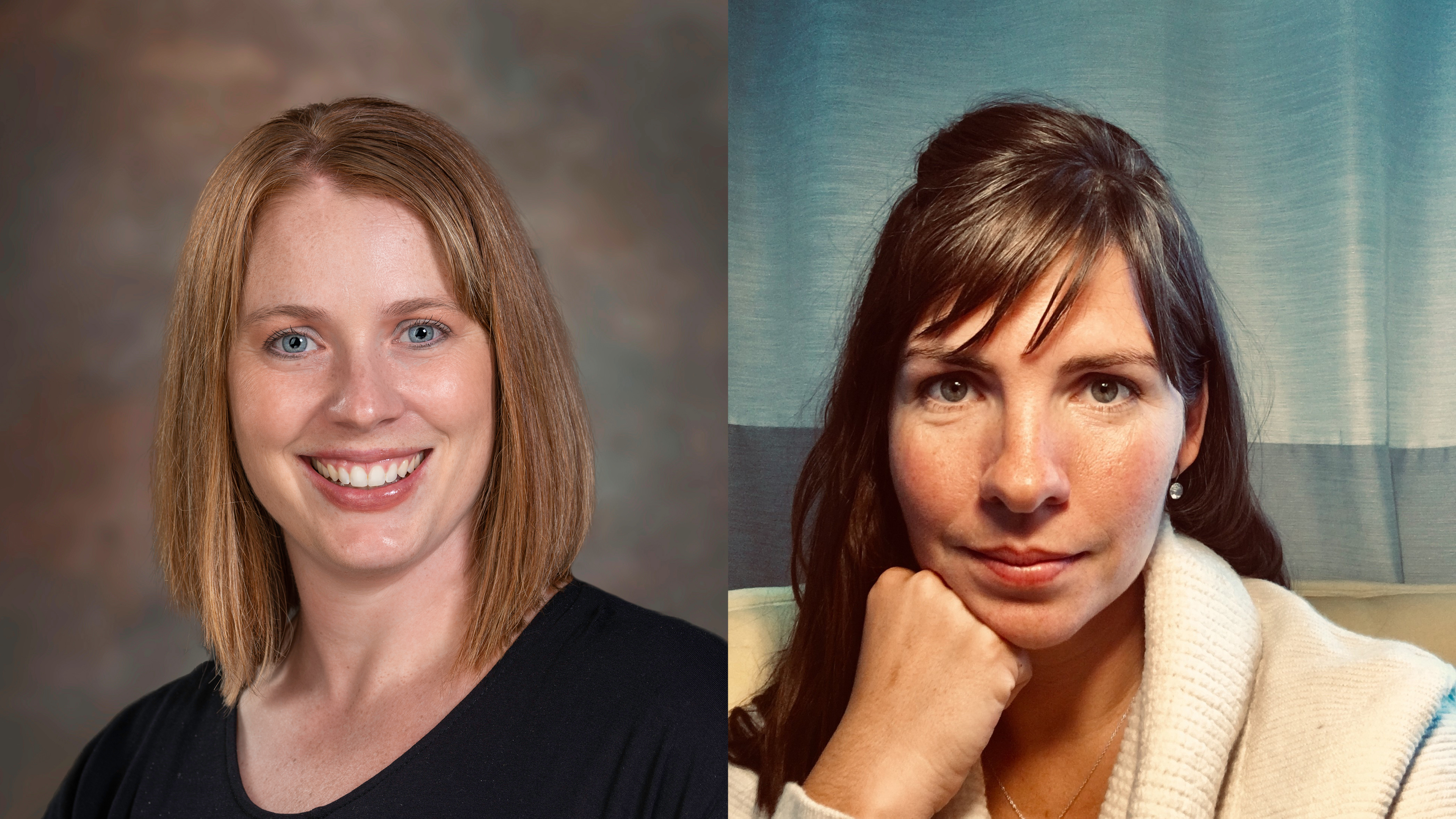 May 27, 2020
When it comes to motherhood, it's hard to tease apart the many tangled-up myths and contradictory advice out there. Plus, you're so busy taking pre-natal vitamins and painting the nursery (which you likely won't use much for several months anyway) it's hard to know what's what. Often, the fantasy of what early parenthood might look like is drastically different from reality, causing parents to feel disoriented. Most have prepared themselves well for the arrival of baby, but they're unaware of how susceptible they may be to Perinatal Mood and Anxiety Disorders (PMADs), which can affect both Mom and Dad and, consequently, baby too.
Meet Brie Oliver and Kelsey Kyle. Brie and Kelsey have a lot in common. They are both registered nurses whose careers focus on supporting moms and babies, they are both mothers of three children, and they are both survivors of a PMAD. Because of their maternal mental health experiences, they are committed heath educators and system advocates, working tirelessly to ensure that when a mom reaches out for help, she can find it.
Here are a few things that Kelsey and Brie wish they had known when they found themselves in the throes of their own PMAD experiences:
PMADs are very common. In other words, you're not alone, you're not to blame, help is available, and you can get better. One in seven women have stood where you're standing and experienced symptoms of depression, anxiety, obsessive compulsive disorder, substance misuse, psychosis, and thoughts of suicide. Women experiencing a PMAD don't often say, "I am depressed, sad, anxious, have lost interest in what I used to enjoy, or I am having thoughts of suicide." The language used by women is often, "No one has felt as bad as I do, I have made a mistake, I am a failure, I will never be myself again, I'm losing it, I want to cry all of the time, everything is an effort, I am in a fog, or sometimes I think my family would be better off without me." If one person in a woman's life can recognize the language of PMADs either on a personal or professional level, it can mean getting help and support sooner.
There are many factors that contribute to PMADs. The perinatal period is such an intense time, as previously well parents may experience their first mental health challenge and have trouble recognizing the cause and getting the help they need and deserve. Often times, a diagnosis of a mental illness comes with feelings of shame, blame or guilt. It is important to remember that you are not to blame, you can get better and telling someone you trust about how you are really feeling is brave. Many survivors who have recovered will say that they wish they would have said something sooner because they felt so much better after they got help.
Caring for yourself is caring for baby. This means taking time for connection with friends to share your experience as a new parent. It is equally as important to create space for alone time, even if it is for 10 minutes. Getting 4-6 consecutive hours of sleep can make a world of difference. Enlist your support system to help prepare simple nutritious snacks and meals. Stay hydrated by keeping a water bottle nearby.
Mental health effects the whole family. The more a family and their support network know about maternal mental health the better. When fathers or grandparents recognize the struggle in their loved ones, they can coordinate getting help. Often, parents are too deep in the weeds to see it for themselves.
Three common paths to healing include peer support, cognitive behavior therapy, and medication. Each mom will determine the combination that works best for her.
Find a provider you trust so you can openly discuss your mental health and you won't have to wear your game face to regular check-ups. Be honest about how you're feeling so you can get the help you and your family deserve.
For providers, you must ask to know if mom is struggling. The Edinburg Postnatal Depression Scale and the PHQ9 are two evidence based tools to start a PMAD conversation. It is impossible to tell if a woman is experiencing a PMAD by looking at her. She may seem like she has it all together, but may actually be silently suffering.
Ask your doctor to recommend an experienced therapist in your area.
Find a local support group and consider attending. These are your people and they'll speak your language, which can be healing in and of itself. Remember, you're not alone. Connect with at least one person in your life that you feel comfortable reaching out to anytime and who will support you unconditionally.
Kelsey Kyle RN, PMH-C has been a registered nurse for 14 years. She received her Bachelor of Arts degree from Carroll College. Kyle started her nursing career in Fairbanks, Alaska, as an Army nurse. She has lived and worked in Helena since 2010. More than half of her career has been dedicated to working with moms, babies, and families. Kyle is currently a nurse care manager with the St. Peter's Health complex care team. She received her certification in Perinatal Mental Health in April 2019 and is a mom of three kids.
Brie Oliver, RN is the executive director of Healthy Mothers, Healthy Babies, the Montana Coalition, Inc. (HMHB), a statewide nonprofit with a focus on improving the health, well-being and safety of children aged 0-3, including pregnancy. Brie worked for more than a decade in the field as a public health home visiting nurse and lactation consultant. Born and raised in Helena, Oliver graduated with honors from the College of Nursing at Montana State University and is the proud mom of three.