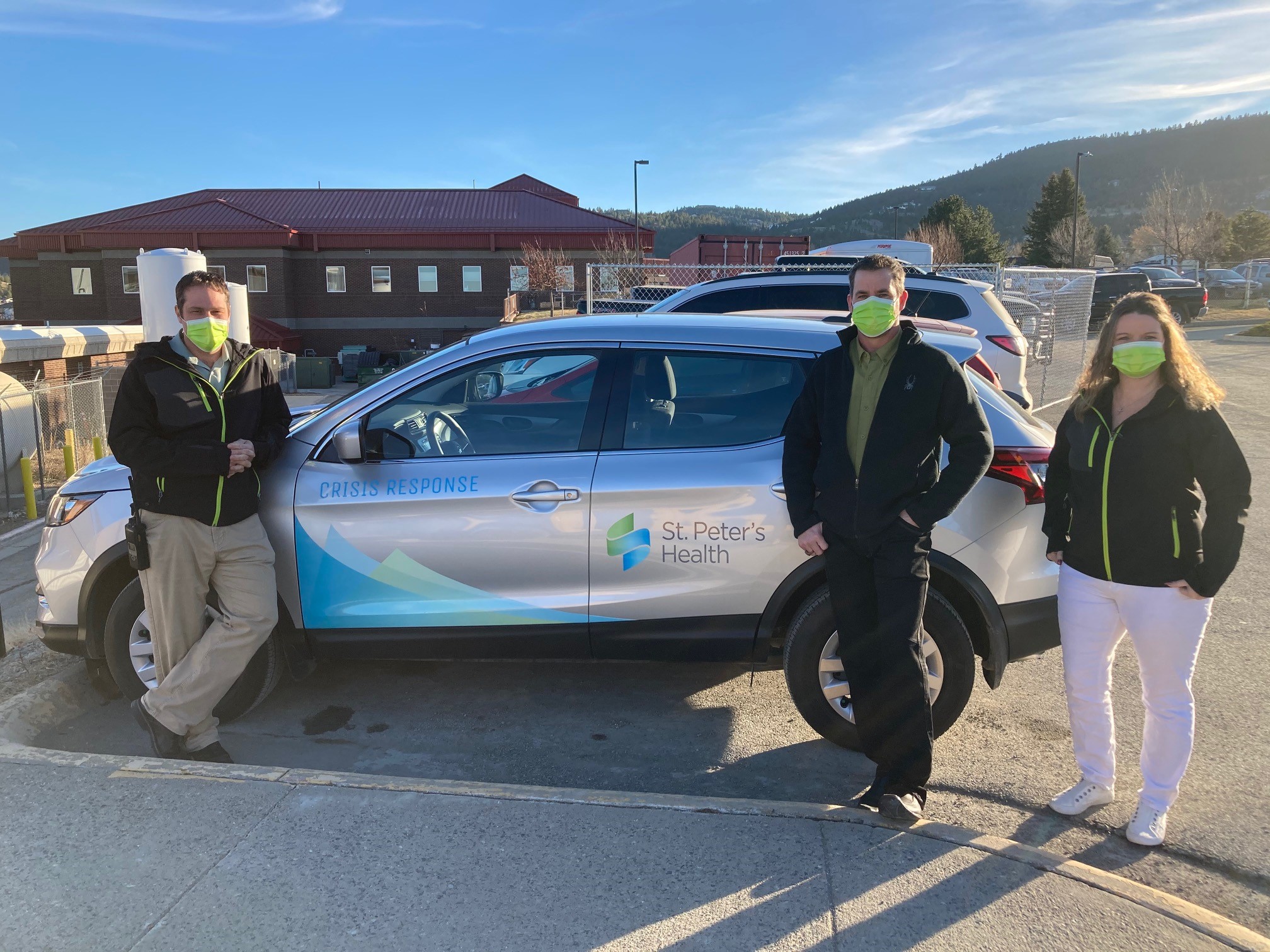 February 9, 2021
The St. Peter's Health Mobile Crisis Response Team (MCRT) program began partnering in November with local law enforcement agencies to provide crisis intervention services throughout the community. In less than four months since the program's launch, our crisis response team can already see the tremendous impact the program is having on community mental health issues.
The MCRT team has already helped 63 community members avoid a trip to jail or the emergency room.
Crisis response team member Kristie Stephenson saw a key change in one client's demeanor just a few minutes into their conversation. Kristie arrived on the scene after being dispatched at the request of local law enforcement officers.
"I had a client who was suicidal and had a plan to end (their) life," she said. "We were able to carry on a conversation. This eventually allowed us to complete a safety plan and avoid transporting this individual to the emergency room."
Jadin VanSteenvort was able to work with a local emergency housing agency to help a client keep their housing during a mental health crisis. The client is now volunteering for the organization. Without the intervention, "it's hard to know what would have happened," he said.
Crisis response therapist Cody Danielson recalled a recent situation where he was called to help a client recently released from jail find a safe place to stay.
"She had nowhere to go, and no idea how to get anywhere. Really, I worked as a liaison connecting her with community resources and helping her navigate between systems," he said. The MCRT is grant funded and offered in partnership with Lewis and Clark County.
The program has been a much appreciated resource for both the Helena Police Department and Lewis and Clark County Sheriff's Office. According to Lewis and Clark County Sheriff's Office Cpt. Kevin Wright, the teams often work together to decide the best outcome for clients. And, when MCRT can help triage issues related to mental and behavioral health, it frees up officer time for other calls and patrol.
"I am looking forward to what the future holds for the program and am hoping that the community sees as many benefits as we do at the HPD," Helena Police Department Sgt. Danny David said.
St. Peter's recently added another team member to the MCRT and will continue to grow the program until crisis support is available 24 hours a day, seven days a week. The therapists are especially anxious to see the program grow so they will have even more success stories to share.
" It's really rewarding when we can defuse the situation, keep someone safe and make a really solid plan to support everyone involved," Jadin said. 
St. Peter's Health Mobile Crisis Response Team