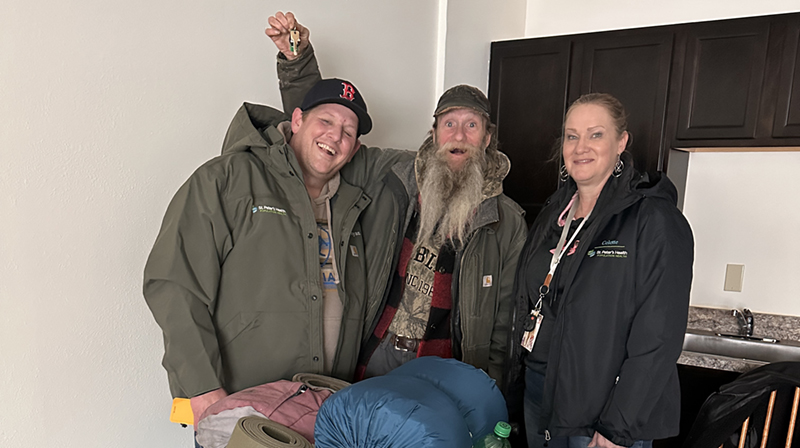 April 17, 2023
Helena's Frequent Users of System Engagement project helps people who are unhoused or unstably housed who often use the emergency room or other forms of crisis care at a disproportionate amount, but the past couple of years, the cost of housing in and around Helena has been a barrier that's difficult to overcome.
"With the change in the rental market, unprecedented rent increases .. the shortage in rentals, it's been a real challenge," said Michael O'Neil, executive director of Helena Housing Authority. "The service systems were so stressed in recent years and continue to be stressed, so there's been a lot of deterioration in support systems.
"We were leaping in at a key moment in the middle of a pandemic to try and pull those systems back together again. (FUSE) is such a great contribution to the community."
Frequent Users of System Engagement (FUSE) is from the Housing is Healthcare project, which is grant funded by the Montana Healthcare Foundation, which funds this project in several large cities across Montana.
In Helena, the FUSE project partners are St. Peter's Health, Helena Housing Authority, United Way, Good Samaritan Ministries and Carroll College's master's of social work program. These partners meet biweekly but are in contact several times a week with emails and phone calls.
The goals of FUSE are to increase housing and retention, decrease inappropriate utilization of the emergency room and other crisis systems such as jail, increase the use of primary care, improve chronic disease management and to advocate for appropriate care.
Kayla Morris, St. Peter's Health supervisor of community-based services, highlighted that many unsheltered people have significant health concerns and that chronic disease outcomes are shaped by social determinants of health, unmet needs and generational trauma.
"Our hope is to get them the right care at the right place, at the right time," Morris said.
The grant work for FUSE in Helena began in 2019, and the project was officially kicked off in September 2021 because COVID-19 postponed it about a year. By April 2022, community health workers were hired and started to see patients that June. Since the program officially started, 15 people have been directly housed, had evictions prevented or have gone into hotel programs, thanks to FUSE.
"They're individuals who without services wouldn't be housed and without housing, wouldn't be in services," Morris said. "Unfortunately in Helena, we don't have any immediately available dedicated permanent supportive housing units, relying instead upon permanent supportive housing vouchers to rent available apartments from landlords in the community. This is obviously a real challenge with our current housing emergency."
St. Peter's community health workers work with FUSE clients for months at a time to get them connected to the services they need. A FUSE client usually has a lot of needs, so the health workers take on low case loads in order to adequately serve people.
Colette Murley, a community health worker, noted how some of the people she helps require surgery, but they can't get it if there's nowhere they can be discharged to.
"Surgeries get scheduled, canceled, scheduled again and canceled again because there's no place to send unsheltered individuals, so that's a big struggle, too — finding them somewhere to go after surgeries and getting them through till they're safe to be back on the streets," Murley said. "We've put people up in hotels who've gotten out of hospitals."
Murley said that sometimes for the FUSE clients, just having someone to call helps.
"I find that a lot — I had a bunch of (people) who were continually going to the ER, but now instead of just running there first, they'll call me," Murley said.
Community health worker Ryan Lehman said he recently helped one of his FUSE clients sign a lease and got food and furniture for him.
"I was running around trying to get him situated so he has food for the weekend and a bed to sleep on and a plate and a cup to eat and drink off because he had literally nothing," Lehman said.
Morris highlighted how helpful Good Samaritan Thrift Store is as a partner because "their donations often go to people actually in need, and many are supported through their assistance ministry programs." The FUSE project also works closely with Good Samaritan outreach coordinators and the staff at Our Place, a peer-run support program.
"Sometimes when we get referrals, we might not have a phone number or an address. We might not have a description — it's just you got to go find this person, and we know they hang out downtown, so you go and start asking," said Theresa Ortega, who has been with Good Samaritan Ministries for 17 years. "It's not our world to have addresses — it's you find out which corner they'll be on."
While Ortega discussed the need for more facilities to use for stabilization. beds, O'Neil highlighted that there is a "state of the art crisis facility house" in the Journey Home, in Helena, that closed on Jan. 10, 2020, due to funding and staffing issues."
"There are times I've been down at Our Place, and I've had someone that's just lost it," Ortega said. "Does she need to go to jail? No. She needs a place to stabilize, to be where there's going to be compassion and people talking to her."
Building lasting relationships between FUSE clients and community health workers is a key part of the program.
"These (community health workers) have the relationships and know how it works," O'Neil said. "These folks that we work with a lot of their lives have been in and out of foster care or (had) people leaving, so it hurts their outcomes if we say, 'I'm going to be there for you,' and then there's a turnover."
Morris said most of FUSE's funding to pay for positions comes from grants and private donors.
"Hopefully, organizations and city and county governments understand the savings and that these positions are incredibly sustainable," Morris said. "It's about reallocating that money for better usage. Let's take the money we're not spending on jail nights, service calls and emergency visits and reallocate that to things that actually help people with successful outcomes."
A big part of the program is the symbiotic relationship between housing and the connection to services such as routine health care — not one without the other.
"(Helena Housing Authority) serves a lot of folks with high health needs and chronic health conditions, so without the connection to services, some of those folks will fall out of housing," O'Neil said. "They need support to get into housing, and they need support to stay and be successful in housing and community living."
On the health care side, Morris said, they've seen an average of $4,800 in cost savings annually per individual being helped by FUSE. Since starting last June, there's been an overall 55% reduction in use of the emergency room, urgent cares, ambulances and the crisis response team from FUSE clients.
She also said there's been an overall justice system decrease of 82% for FUSE clients, meaning fewer Helena Police Department calls for service, Lewis and Clark County Detention Center bookings and total days spent incarcerated at the detention center.
Morris is worried about emerging health hurdles from the Department of Public Health and Human Services doing Medicaid and Healthy Montana Kids eligibility redeterminations on April 1.
"People are going to lose their Medicaid, which means they're going to lose all their behavioral health services," said Morris. "Services like FUSE and Good Sam's aren't Medicaid billable, but they're going to lose their mental health services, and we're not mental health services. That's going to have a significant impact on people currently experiencing homelessness or (who) are not stably housed."
On top of Medicaid redeterminations, the Montana Emergency Rental Assistance (MERA) program stopped accepting applications March 24 due to running out of funds. According to MERA's website, the program helped 13,291 Montanans at a total cost of $121.7 million.
"There's going to be a flood of individuals back on the streets," Morris said as the MERA program goes away.
Jeff Buscher, community impact coordinator at United Way, said, "With MERA funds expiring and affordable housing options still very sparse, it's likely we'll see more tents and individuals sleeping out downtown and in the parks around our community this year."
Morris said people coming in from out of state and buying houses in cash just to rent them out at unaffordable prices or make them Airbnb's or VRBOs "has absolutely contributed to the housing problem." She noted that while it harms people, it also has a large effect on families looking for affordable housing.
"(Airbnb and VRBO) are a very disruptive thing," O'Neil said. "... It's disruptive to a neighborhood. It's kind of a weird thing that we let happen, and it's slipped in the back door. A lot of the real estate listings now even advertise to that 'Oh this would make a perfect (Airbnb or VRBO), which drives up the price for sale."
A story from the Washington Post from April 2022 listed Lewis and Clark County as fifth-highest in rent increases in the nation. The rent increased 36.5% to an average rent of $1,263 in Lewis and Clark County. Counties like Gallatin and Missoula increased 18.6% and 18.9% in comparison. Lewis and Clark County didn't have the highest rent in Montana, but it definitely had the highest percentage increase.
Carroll College sophomore Nick Anderson, who's majoring in math and minoring in data science, has been working with United Way to update the 2018 Tri-County Housing Needs Assessment information. Anderson highlighted a recent statistic that stuck out to him — people who are 35 and under are renting twice as often as they're owning houses as of 2021.
O'Neil with current market conditions, dedicated permanent supportive housing units are more needed than ever.  HHA is working to add such units as part of its redevelopment efforts to add to its current voucher programs and public housing offerings. Another option is using a block lease to rent a number of units together.
"The focus on this is cost savings because we're at a time and place where we have to justify things by cost savings, and that's a positive message, but the real positive is the difference it makes in life outcomes," O'Neil said. "People's basic health improves. When people are properly supported in stable, affordable homes, they are much more successful in community living, no longer needing expensive emergency community services."
FUSE is still in its pilot phase, but everyone who has been a part of the Helena project is hoping it will make it long=term.
O'Neil stated that one of the questions at the Legislature this year is 'If we're not going to fund housing this year, then when?'
"Can (the crisis situation) get worse? Yes, and it will," O'Neil said. "The cost of doing nothing is not nothing. The cost of doing nothing is in fact quite high in the cost of people's lives and not using limited community resources effectively. FUSE shows we can do better working together as a community to create effective housing and service solutions."