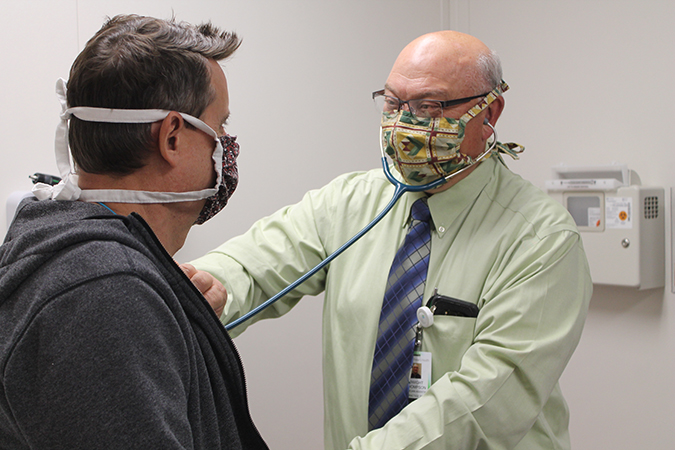 March 30, 2021
March is National Colorectal Cancer Awareness Month. Regular screening beginning at age 50, or earlier depending on family history or other circumstances, is the best way to prevent colorectal cancer. It is the second most common type of cancer causing death in the US today. Colorectal cancer doesn't always cause symptoms, especially at first. Many times it's diagnosed by the analysis of tissue samples that are removed during a screening colonoscopy.
A colonoscopy is the best way to screen for colon cancer. While the thought is often intimidating, the actual process is not nearly as terrible as it's rumored to be. The day prior to your test you will do a "prep" to clean out your colon. The next day you will have your procedure as an outpatient at a healthcare facility. Most people choose to be sedated for the procedure and don't remember the procedure at all. Once you are sedated by IV medications, a small diameter flexible tube is inserted into the rectum and advanced through the colon to visualize the entire colon. If your doctor finds polyps, they are removed. If there is tissue that looks concerning, tissue samples are taken. You will go home soon after the test is complete. If any tissue was removed, it will be sent for analysis. Your doctor will make recommendations based on the results.
There are other methods of screening for colorectal cancer but if any of them are positive, a colonoscopy is necessary anyway. You may as well opt for the gold standard colonoscopy in the first place. Most all insurances pay for screening colonoscopies. Check with your insurer for details on your specific plan, and then contact your provider and ask for assistance in scheduling a screening colonoscopy. There are a number of physicians in Helena who do them. We happen to have two physicians who come to our St. Peter's Townsend Clinic on a monthly basis who do them. For your convenience, you could have your initial appointment prior to your colonoscopy right here in our clinic. They are Dr. Emily Bubbers and Dr. James Verlanic.
More than 50,000 people die of colon cancer every year. Early detection and screening can help prevent a diagnosis or death – talk to your doctor today!
Dwight Thompson, PA is a provider at the St. Peter's Health Townsend Clinic. Julie Thompson, RN, is a nurse in the St. Peter's Health Endoscopy Unit at St. Peter's Health Regional Medical Center in Helena, Mont.