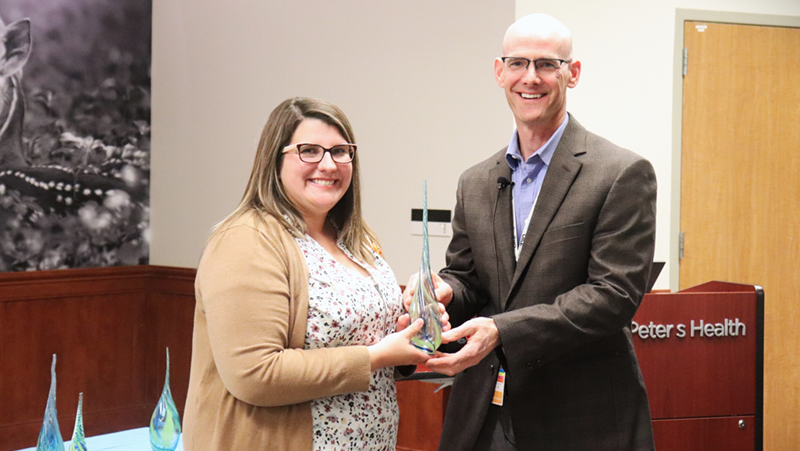 October 3, 2023
St. Peter's Health recently celebrated academic excellence and philanthropic generosity at its 2nd annual Fred C. Olson Learning and Development Institute scholarship ceremony. The event honored 17 dedicated health care professionals and unveiled a magnificent donor recognition display, highlighting the health system's deep appreciation for its benefactors.
The Olson Institute, named after the late St. Peter's Health CEO and board member, Dr. Fred C. Olson, is a leading force in health care education and advancement. It plays a vital role in addressing the growing demand for skilled health care professionals by nurturing a sustainable workforce pipeline and enhancing the skills of current caregivers and health care workers. This is especially crucial in a time when education and advanced training are more critical than ever.
St. Peter's Chief Executive Officer Wade Johnson set the tone with an opening address emphasizing St. Peter's unwavering commitment to developing talent within and building a skilled health care workforce. Johnson stated, "The Olson Institute has been instrumental in shaping the future of health care in our community and at St. Peter's. Our scholarship recipients today embody the dedication, passion, and promise we seek in the caregivers of tomorrow."
The scholarship recipients, representing various health care disciplines, including nursing, radiology, public relations, and financial navigation, were individually recognized. They received colorful glass awards created by Goose Bay Hand Blown Glass artist, Jim Gunderson, accompanied by an enthusiastic applause from the audience. For these recipients, the scholarships symbolized not only financial support but also St. Peter's belief in their potential as future health care leaders and employees in their respective passions.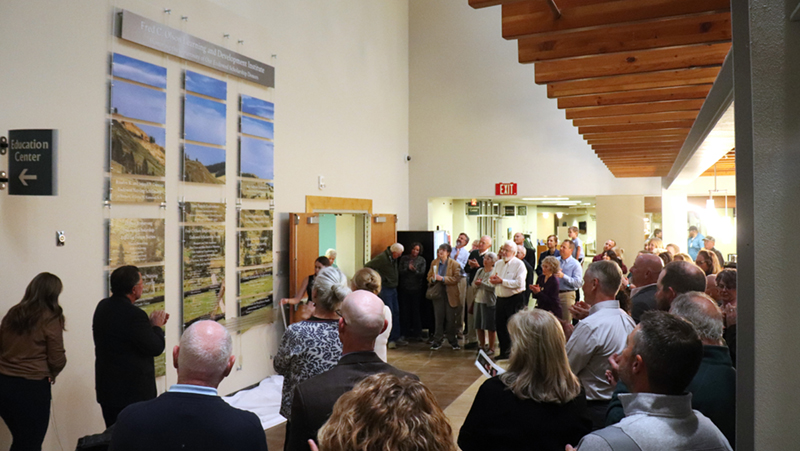 The ceremony's highlight was the unveiling of the donor recognition display, an exquisite installation in the Regional Medical Center's main atrium. This prominent display showcases the names of current and future generous donors who support education for St. Peter's employees and the Olson Institute since its inception in January 2021, ensuring its continued success. The display reflects our commitment to recognizing the crucial role played by our donors.
Thanks to the generosity of our donors, St. Peter's has significantly expanded educational opportunities for St. Peter's employees through endowed scholarships. Since October 2020, the St. Peter's Health Foundation has facilitated substantial donations, multi-year pledges, and estate plan commitments totaling $2.4 million. Their goal is to raise $10 million in endowments by 2028.
The true impact of the Olson Institute is evident in the scholarships it awards. Over the past two years, 157 employee scholarships have been granted, totaling $372,500. In August 2023 alone, the Foundation awarded 57 scholarships, amounting to $132,500. These scholarships, ranging from $500 to $10,000, have made education more accessible and fostered a culture of learning within the organization.
The 2nd annual Olson Institute scholarship ceremony serves as a powerful reminder of the remarkable achievements that can be accomplished when a community supports continued education and health care. With the backing of St. Peter's and our passionate community, these 17 scholarship recipients are poised to make a lasting impact on the future of health care in Helena and beyond. This event showcases the enduring partnership between health care providers and their communities, creating a brighter and healthier future for all.