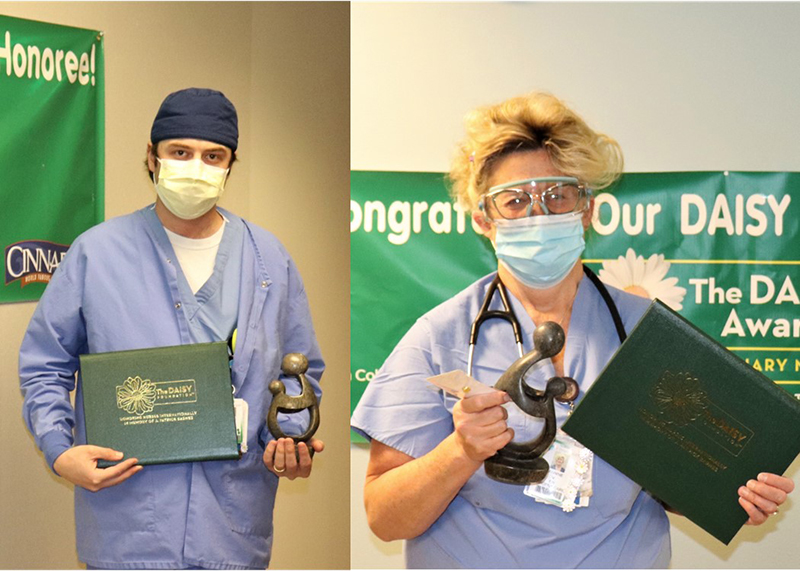 March 7, 2022
St. Peter's Health Registered Nurses Rick DePaso and Jannine Vogley-Turner received DAISY Foundation Awards for Extraordinary Nurses. DAISY awardees are selected quarterly from nominations submitted by St. Peter's patients and their family members.
DePaso has been with St. Peter's since 2015, most recently caring for patients in the Intensive Care Unit (ICU). In DePaso's nomination, a patient relayed a number of reasons why their care was above and beyond thanks to DePaso, including that we was "polite, compassionate and calm."
Vogley-Turner has over 38 years of experience as a registered nurse, most recently providing care to patients in the St. Peter's Emergency Room and Urgent Care at the Regional Medical Center (hospital). In the words of a patient who nominated her, "her care made a normally stressful and annoying situation so much more bearable. I am grateful to have had her as a nurse." Vogley-Turner has been with St. Peter's since 2008.
The DAISY Award was established to honor the super-human work nurses do to care for patients and families every day. The award is presented in collaboration with The American Organization of Nurse Executives. St. Peter's administration and staff select the winner from those nominated. Recipients receive a certificate and a sculpture called A Healer's Touch, which is hand-carved by artists of the Shona Tribe in Africa.