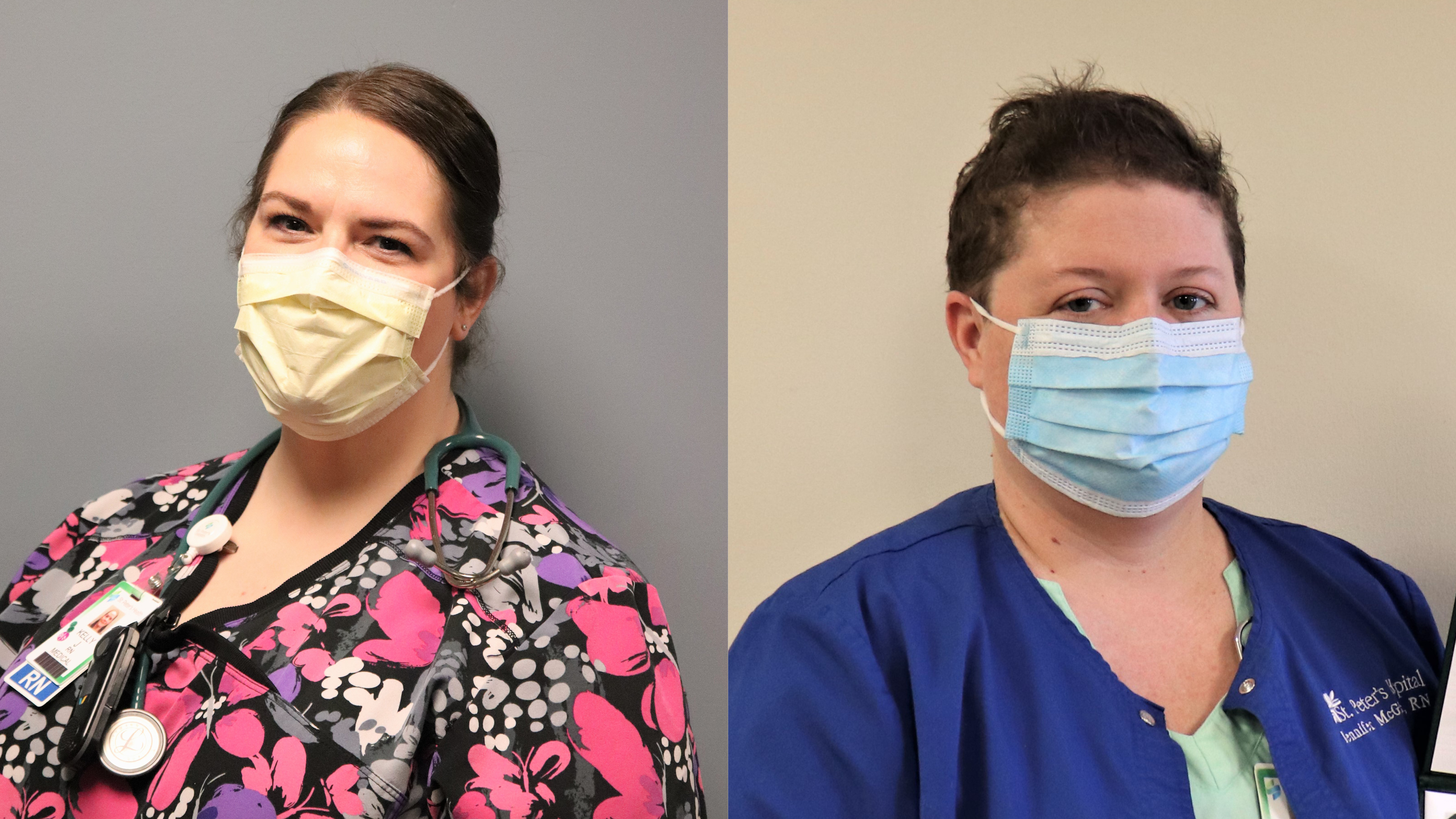 March 23, 2021
St. Peter's Health Registered Nurses Jennifer McGinnis and Kelly Johns received DAISY Awards for Exceptional Nurses. DAISY awardees are selected quarterly from nominations submitted by patients and family members.
McGinnis is a Registered Nurse in the Infusion Center at the St. Peter's Health Medical Group - Broadway Clinic and has been with the organization since 2015. The patient who nominated McGinnis said that her laugher and energy are contagious. The patient shared that most people are not excited about their infusion center appointments due to their illness. However, thanks to McGinnis, "every time I am in the infusion center, I am greeted by a happy, welcoming, kind, bright light that immediately makes you feel good, calm, welcomed and makes all your worries disappear."
A Registered Nurse on the St. Peter's Health medical unit, Johns was moved to tears when named a DAISY award winner. The patient who nominated Johns shared that she met her when she was a caregiver for a hospitalized patient and later when hospitalized themselves. The nomination letter noted that Kelly is very kind, and made a terrible situation brighter, "she managed to make some really tough situations more bearable for me." Johns has been with the organization since 2019.
The DAISY Award was established to honor the super-human work nurses do in direct care of patients and families every day. It is presented in collaboration with The American Organization of Nurse Executives. St. Peter's Health administration and staff select the winner from those nominated. Recipients receive a certificate and a sculpture called A Healer's Touch, hand-carved by artists of the Shona Tribe in Africa.