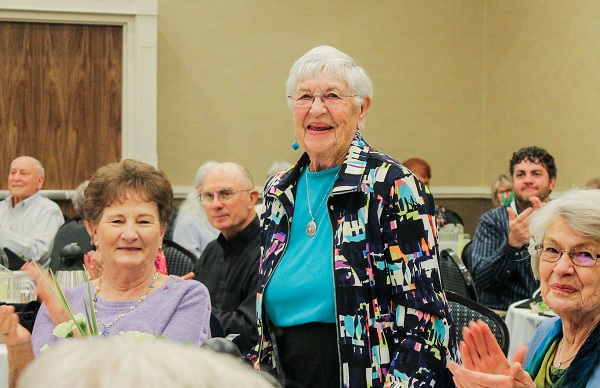 April 18, 2022
Every day over 100 volunteers make a difference in the lives of employees, patients and the communities we serve through the St. Peter's Health Volunteer Program.  From providing excellent support for staff to helping patients and guests, our volunteers are a vital, dynamic group that devotes thousands of hours each year to support the purpose and services of St. Peter's Health. Whether it's one year of service or 50 years of service, this National Volunteer Appreciation Week we are grateful for all of our volunteers.
Helen Bunkowske
Helen, 96, celebrated 50 years of service this year as a St. Peter's volunteer. Even before serving as a St. Peter's volunteer, she had a passion for health care and serving others. According to Helen, she received her nurses training under the Cadet Nurse Program during World War II as a Registered Nurse in 1947, and later completed the Parish Nurse program at Carroll College and served as a Parish nurse at her church. She has worked in many positions for hospitals across the country. In 1972, she started volunteering at St. Peter's Health (then St. Peter's Hospital).  She has served here in many capacities including on patient floors making beds and delivering water; attending to visitors in the surgical waiting room; and for the past 30 years serving patients and their families through our hospice program and the last nine years through our No One Dies Alone (NODA) program. Helen currently serves as a Patient Ambassador at the Regional Medical Center front desk, greeting and helping patients find registration, and escorting them to their room or appointment location. She has also been a member of the St. Peter's Hospital Association since she began volunteering at St. Peter's.  When asked why she volunteers she shared, "there's always a need."
Janet Long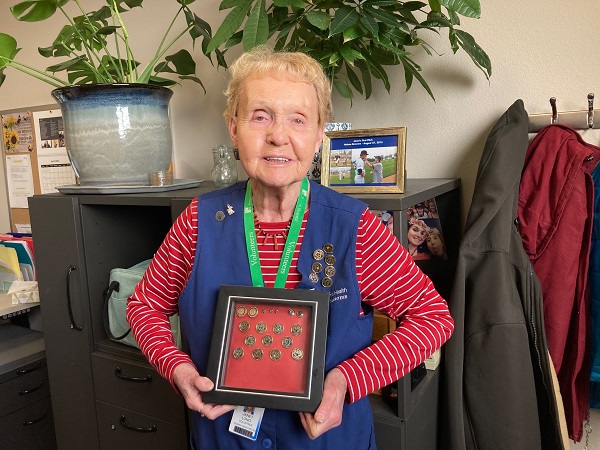 This month, Janet will celebrate 30 years of volunteer service at St. Peter's. Currently, Janet serves two days a week as the People Services volunteer, helping staff in the department with various tasks like compiling new employee onboarding packets. She has served in this capacity for nearly 28 years, after first volunteering in our Operating Room waiting room. When asked what keeps her coming back to volunteer at St. Peter's she shared, "the people. I am honored to work with such a wonderful group." Janet also shared that volunteering at St. Peter's makes her feel like she is part of a big family. "I needed this after the death of my husband. This team is great company to spend time with, along with my dog Molly."
Chuck Ruzicka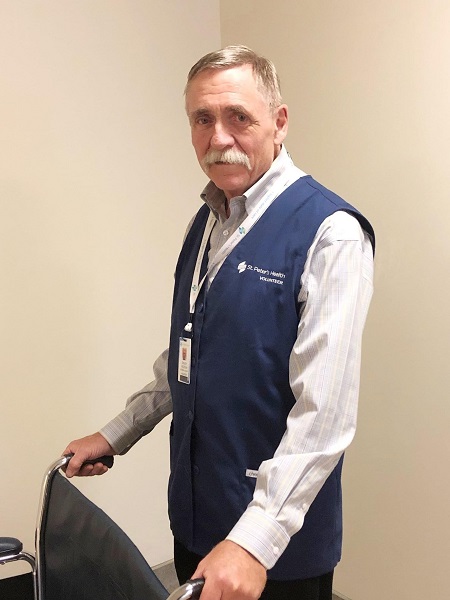 Chuck is a Patient Greeter at the St. Peter's Broadway Clinic and has served in this role for five years. He provides a warm greeting to patients and ensures they are wearing a mask as they enter the building, helps give directions to appointment locations and occasionally assists patients as they maneuver the parking lot, sidewalk and doorway to enter the building. In 2019, Chuck was recognized with a St. Peter's TACT Award for going above and beyond helping an elderly couple get out of their vehicle. When he noticed them struggling due to snow, he immediately grabbed a shovel and cleared the area to help the couple into the warm building.
Julianna Breit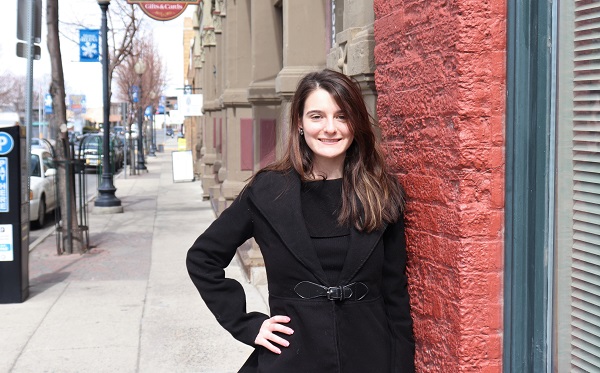 A junior at Carroll College, Julianna completed an application three years ago from Wilmington, North Carolina, to volunteer at St. Peter's. She is double-majoring in biochemistry and philosophy and eventually wants to attend medical school to become a psychiatrist.  When asked what drew her to volunteering at St. Peter's before even living in Helena, she shared that she knew volunteering at the local hospital would give her a variety of roles, experience and skillsets that she could use as she pursued school and her dreams to become a doctor. Julianna has served in several volunteer roles at the organization including a Patient Ambassador and a COVID-19 Screening volunteer. Julianna currently serves as a Hospice and NODA volunteer and provides "tuck in" phone calls. On Thursday afternoons, she calls patients and their families on end-of-life care to ask if they're "tucked in" for the weekend... meaning they have everything they need (medication, supplies, etc.) to make it through the weekend.