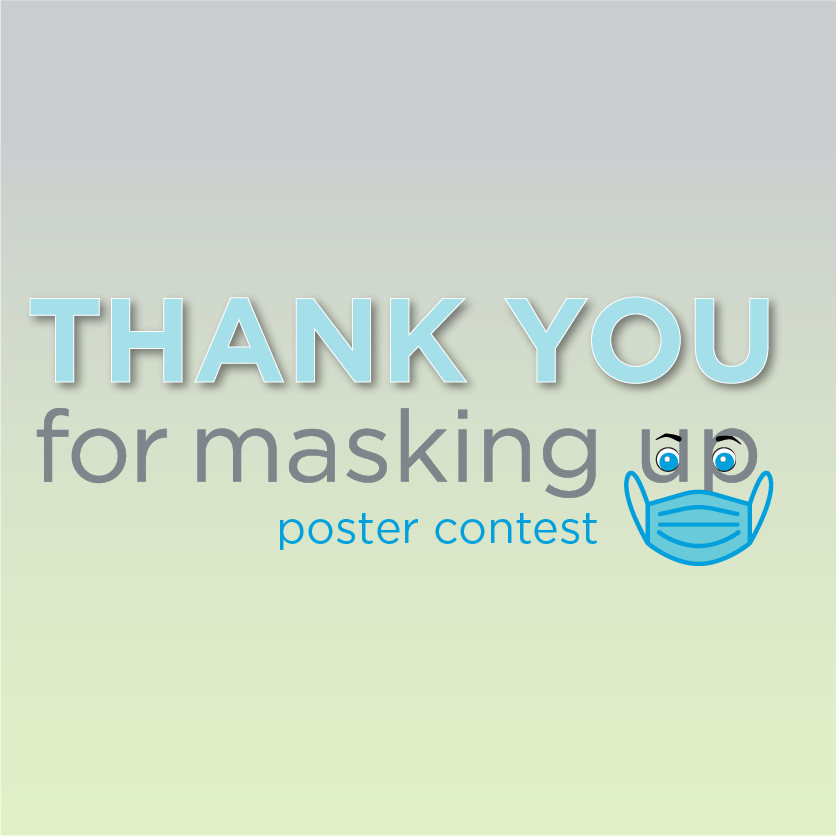 September 21, 2020
St. Peter's Health thanks everyone in the community who wears a mask to help slow the spread of COVID-19.  
 
We're looking to local young artists to help us say THANK YOU and to help raise awareness about the importance of wearing a mask during the COVID-19 pandemic.  
 
Poster Contest Theme  
Help us thank the community for masking up!
 
Wearing a mask when in public and around people who aren't part of your household is one important way to protect ourselves and others from COVID-19. Everyone who takes basic, everyday precautions to slow the spread of COVID-19 should be celebrated and appreciated. Why do you wear a mask? Why do you appreciate others who wear a mask, too? 
 
Make sure somewhere on your poster you include this: "Thank you for masking up" or "Thank you for wearing a mask."
 
Grade Groups  
There are three grade categories:  
Pre-kindergarten through 3rd Grade 
4th Grade through 7th Grade  
8th Grade through 12th Grade 
 
Prizes  
Nurses, doctors, and other St. Peter's Health team members will vote to select a winner in each grade category and also a grand prize winner! 
 
St. Peter's Health will print up to 100 copies of each winning poster. The posters will be distributed to local businesses and organizations so they can help thank their customers and employees for masking up. The grand prize winner's poster will also be displayed on the digital billboard at the corner of North Montana and Cedar in Helena!
 
The winner from each grade category will also receive a special gift card to a local business!

Submission Instructions
Posters must be submitted by October 12, 2020. Winners will be announced on October 19, 2020.
Only one design per artist is allowed and artists must live in: Lewis and Clark, Broadwater, Jefferson, Powell or Meagher county.
Posters should be at least 8.5 inches by 11 inches and no larger than 11 inches by 17 inches. 
All submissions should include guardian/parent's name, phone number, and/or email if the student is under 18 years of age; for all submissions, please be sure to include the artists name and grade (as of the 2020-2021 school year).

Submissions can be: 
Dropped off at St. Peter's Health Administration Building at 2500 Broadway Street in Helena between 8am – 5pm, Monday through Friday (drop box located right inside doors - please wear a mask)
Dropped off at the St. Peter's Health Townsend Clinic at 515 S Front Street in Townsend (please wear a mask when you enter the clinic)
Mailed to: St. Peter's Health, Attn: Shari Hagengruber, 2500 Broadway St., Helena, MT 59601 (must be received by October 12, 2020)
Questions? Email St. Peter's Health Community Relations Coordinator Shari Hagengruber at shagengruber@sphealth.org. 
More drop-off locations coming soon!