St. Peter's Health is proud to offer MyChart through a partnership with SCL Health, which is also known as Intermountain Healthcare. MyChart is a world-class health information service that gives users secure, one-stop online access to health management tools.
Manage and view appointments

Message health care teams

Access test results

View medical information

View and pay bills

Request prescription refills
MyChart Help
If you are having trouble using or activating MyChart, you can connect with a member of our team. 
How to access MyChart 
Already have an active St. Peter's MyChart account? You can quickly and conveniently access MyChart from your computer, smartphone or tablet. 
Login using your computer, smartphone or tablet
Download the app
Go to your app store using your smartphone to download the MyChart App. 


App setup instructions
In the store, search for MyChart and follow installation instructions. 
On the "select an organization" screen, choose Montana and search "St. Peter's Health" or scroll until you see the "St. Peter's Health" logo. Select St. Peter's Health option.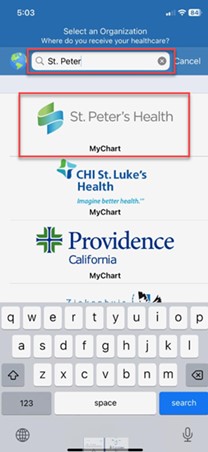 How to sign up for MyChart
Already have activation information to sign up for a St. Peter's MyChart account? Click here to access or activate your account. 
Need activation information for a St. Peter's MyChart account? The best way to sign up for MyChart is through instant activation information you receive when you schedule an appointment or check-in for a service at St. Peter's. Using the instant activation code is the easiest and quickest way to create a MyChart account. You can obtain the activation code several different ways:
You can always ask a member of our care teams for activation information
In some cases, the activation codes will be sent or provided automatically. For example, if you have a valid mobile phone number on file, activation information will be sent via text when you schedule an appointment or after you check-in for an appointment.
If you do not have a valid mobile phone number on file until you activate your account, activation codes may be a part of your printed after-visit summaries and billing statements.
For information on self-sign-up, click here
Please note that in some cases, not all MyChart tools or full functionality is instantly available until after you have completed a scheduled appointment or used a service after June 10, 2023. For example, you may not be able to message some providers if you haven't completed a scheduled appointment with that provider after June 10, 2023.
How to request proxy access 
Proxy access allows a parent, guardian or caregiver to log into his or her personal MyChart account, and then connect to information regarding a family member. Access may vary depending on the age/relationship and policies. To set up proxy access:
Learn more by visiting the MyChart FAQ page. 
Patient Portal access
On June 10, 2023, St. Peter's switched from Patient Portal to MyChart. If you previously used Patient Portal, it's important to know that Patient Portal is no longer available for regular use. You need a MyChart account to do things like manage your appointments and to message/communicate with your care team.
For a limited time, you will be able to use your active Patient Portal account for read-only access to view certain historical records or view/pay your bill for services received before June 10, 2023. 
Access your Patient Portal  Patient Portal for the visually impaired
Your logon ID and password can be reset by using the links on the Patient Portal login page. This will also unlock a locked Patient Portal. When these requests are made, the information entered must match your Patient Portal account.