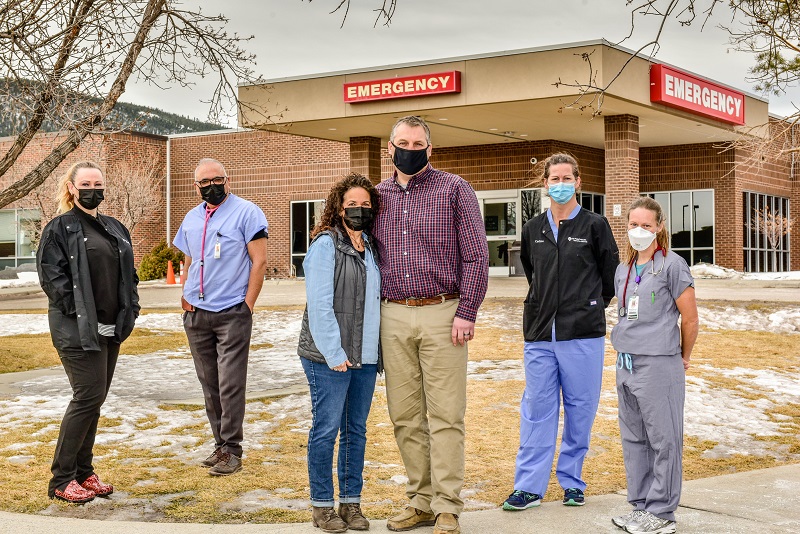 February 28, 2022
There were hugs all around when Shawn and Lori Schroeder made a quick stop to see staff outside the St. Peter's Intensive Care Unit (ICU) on Oct. 1. The happy reunion came on the day Shawn, 51, was finally going home after a long and difficult battle against COVID-19.
Shawn spent 40 days in the St. Peter's ICU. He then spent another month in care facilities in Billings where he worked to regain enough strength to stand. The Schroeder's credit the collective expertise, quick actions and compassionate care provided by St. Peter's staff with saving Shawn's life. The visit outside the ICU gave everyone a much needed opportunity to celebrate Shawn's recovery.
Shawn wasn't conscious for the majority of the time he was intubated. The hard days were filled with hard decisions. That's when Lori started to form her own bonds with the staff.
"Every time they entered the room, they would always say, 'here's what we're doing' for every action or every medication. [Doctors] would pull me back behind the counter to look at scans and explain them," Lori said.
"I could stand and give them each a hug. It meant a lot," Shawn said. "They don't have enough wins [during the pandemic]. I'm living proof that what they do works, and helps, and means something."
Shawn was first admitted to the ICU on Aug. 1, after his oxygen levels dropped dangerously low.
"My situation was unique. I was not intubated at first. I couldn't have any (visitors). So, I talked to the nurses. They were great," Shawn said.
Lori could only see Shawn through the window during the first part of his stay. Still, she could see relationships being formed between Shawn and the staff. Shawn's condition improved slightly for several days in mid-August, only to deteriorate quickly again. On Aug. 19, they had to make the decision to put Shawn on a ventilator.
"It was hell," Lori said. "But there were no other options."
Everyone from the security guards to the nurses and other staff asked often if she needed meals.
"In the hospital, it felt like it was my own little community," she said.
When Shawn was able to move to a longterm acute care facility in Billings in early September, staff lined the hallways to wish him well. Shawn and Lori came back to Helena on Oct. 1.
"I'm not using oxygen any more. I went back to work full time," he said, adding that the experience has brought him closer than ever to his three sons and Lori.
Both Lori and Shawn saw the toll the pandemic has taken on the caregivers. They hope sharing Shawn's story is an uplifting reminder of the immense impact of their care.
"From the nurses, to the respiratory therapists, to the doctors, [the care] was incredible," Lori said. "We want them all to know how appreciated they are. We don't think thank you is enough."
Don't delay! Vaccines saves lives
Along with celebrating the important work of caregivers, the Schroeder's hope sharing Shawn's story will continue to highlight the importance of vaccination. Shawn was unvaccinated when he contracted COVID-19. He and Lori have since received the vaccine. 
And, they've had many friends and acquaintances get the vaccine after seeing what Shawn went through.
"I would say it's 40 people who said, 'I've gotten vaccinated because of your story and what happened to you,'" Shawn said. 
Vaccines are safe, effective and available to everyone over the age of five. Learn more at sphealth.org/covidvaccine or lccountymt.gov.