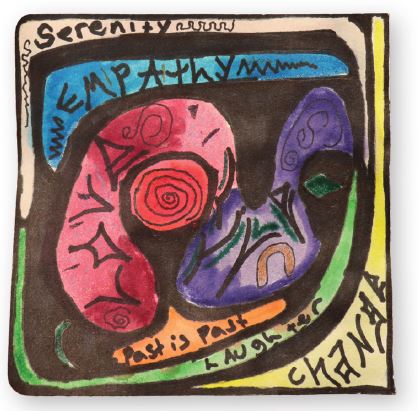 October 9, 2020
New Inpatient Healing Arts Program
St. Peter's now offers art classes for patients in the Behavioral Health Unit to promote a more holistic healing process. The unit, which provides short-term, live-in care services for adults experiencing mental health crisis, began offering these classes weekly in June in partnership with the Holter Healing Arts Program. Patients can opt into the class and create a variety of art pieces including rag dolls and wood sculptures. Many patients even agreed to showcase their art as part of a Holter Art Museum's Spring 2021 exhibit.
According to BHU Recreation Therapist Heather Myers, CTRS creative expression helps foster a therapeutic environment and can benefit patients in many ways.
"There's some really neat things that happen," Myers said. "It can bring up memories or spur conversations. It helps people open up."
Growing Team of Behavioral Health Professionals
St. Peter's Health has more than doubled the number of behavioral health professionals serving patients. The behavioral health team provides one-on-one counseling and is now embedded into clinic primary care teams to offer real-time care if needed during routine visits. When in-office visits were scaled back due to COVID-19, the team launched targeted outreach efforts to check in on patients and employees by phone or using telehealth options.
"Mental and behavioral health is a critical factor affecting a person's health. Normalizing these services and routinely offering them as a part of whole person care vastly improves overall health outcomes for our patients," said Amy Emmert, Senior Director of Population Health.
Mental Health Interventions Outside our Walls
This fall, the St. Peter's Health Mobile Crisis Response Team (CRT) will hit the streets to care for people experiencing a mental health or substance abuse crisis anywhere in the community.
"On average, 100 people visit our emergency department every month due to a behavioral health crisis, but we'll be able to help so many more people in crisis by bringing this care to them," said Kari Parmer, RN Inpatient Senior Nursing Director.
The Mobile CRT is a new, grant funded service offered by St. Peter's Health in partnership with Lewis and Clark County. St. Peter's mental health specialists will be dispatched to support law enforcement in the field with crisis intervention, de-escalation and re-direction to community services. The goal is to reduce emergency room and detention center admissions as well as improve outcomes for people in crisis. Mental health professionals will continue to be available in the St. Peter's Emergency Department.