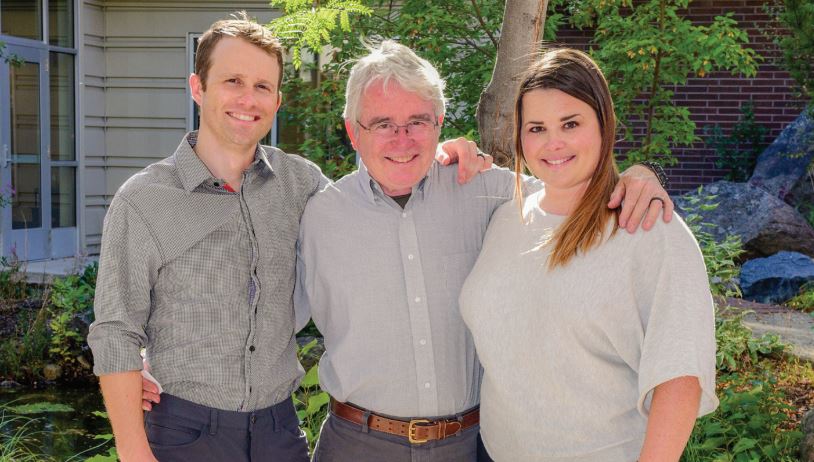 September 20, 2021
It wasn't a given that Drs. Katrina and Robert Maher would follow in their father's footsteps.
Dr. James Maher practiced medicine for more than 33 years in Helena before retiring in 2015. Katrina and Robert grew up in Helena and medicine was just a part of life. As kids they rounded at St. Peter's with James and flipped through anatomy books at home.
Still, neither grew up with plans to become a doctor and James didn't push them in that direction.
"I personally tried to find anything else I liked better," Katrina said. "But (practicing medicine) is what I wanted."
Robert said he explored other options, "But in the end, there were few other careers that seemed as satisfying because you get to meet people and help them. There was a magnetic draw to it."
They both graduated with medical degrees from Wayne State University School of Medicine in Detroit, Mich.— their dad's alma mater in his home state. As of August, they both had moved back home to Helena and joined St. Peter's. Katrina sees patients at the St. Peter's Health Medical Group North Clinic as a Family Medicine physician. Robert recently joined the St. Peter's General Surgery team after completing his surgery residency at University of Arizona-Phoenix School of Medicine.
Katrina was drawn to Family Medicine because of the variety and familiarity.
"I liked a little bit of everything," she said. "I knew the lifestyle I was getting in to, that made it a little easier. I wanted to come back to Helena and do residency in Montana. There are things about Helena you can't find any other place in the world. It's been so nice to be home."
Robert initially leaned toward Family Medicine too, until his surgery rotation in medical school.
"During rotations, I decided right then and there I would be a surgeon," he said. "There's a wide scope of practice, but there's something that's really satisfying about having a problem to fix. I'm excited to be joining a group of fantastic surgeons. I'm excited to be able to give back. And I'm just really excited to be home."
James insists he can't take much credit for their decision to become doctors or return home to Helena, but Katrina and Robert say his important lessons will help guide their work.
"One thing he taught us was to surround yourself with good people and let them do their jobs," Robert said. "That'll go a long way in helping you be successful and have a meaningful impact."