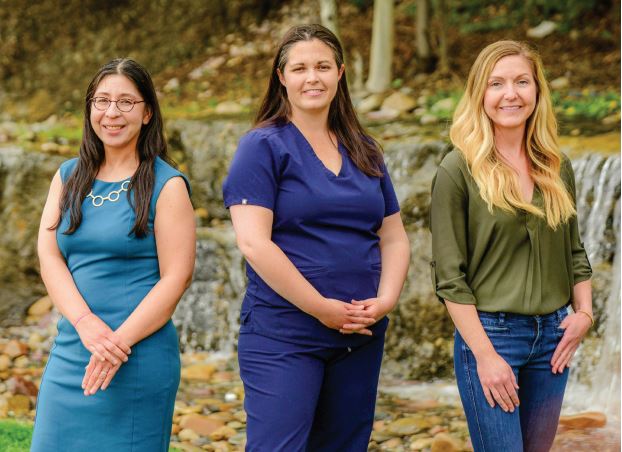 June 17, 2022
Medical Oncologist and Hematologist Dr. Elizabeth Bigger, Pediatric Hospitalist Dr. Meaghan Lafferty and Gastroenterologist Dr. Lauren Shea joined St. Peter's in 2022.
What drew you to the community and St. Peter's?
DR. BIGGER: My husband Pete is a snowboarder, and I'm a skier. We fell in love with the area during a recent trip to Wyoming—wide open space, the mountains, Yellowstone National Park and the great snow! We felt a strong pull to come west. After meeting the incredible, inspiring folks at St. Peter's, we knew that Helena was the right place for us to call home.
DR. LAFFERTY: I've been coming to Montana for vacations since I was a kid and my parents recently retired here. My goal for the past couple of years has been to move my family here so my husband and I can raise our two boys in the great outdoors. When I became aware that St. Peter's wanted to hire a pediatric hospitalist, I jumped at the chance. I could not be more thrilled to be here!
DR. SHEA: I was excited to serve this community and impressed by the quality of the team at St. Peter's. I was also attracted by the quality of life that Helena offers.
What made you want to specialize in your area of medicine?
DR. BIGGER: I chose cancer care because of the unique, intimate relationships I develop with patients and their families. There can be emotional ups and downs, but ultimately this is a rewarding journey that we experience together. I can't imagine doing anything else.
DR. LAFFERTY: Becoming a pediatrician was a natural choice for me as I have always loved being around kids. During my pediatric residency, I felt a pull to work inside a hospital. I like the variety and being able to see a patient through a serious illness from beginning to end. I can give each patient and family as much time as they need, whether that is 10 minutes or two hours.
DR. SHEA: I was attracted by the challenge and broad scope of care required in my field ranging from colon cancer prevention to developing treatment for those with long-term gastrointestinal conditions. I also saw a need to meet women's specific health issues in a field where fewer than 25% of gastroenterologists are female. Effectively treating gastroenterological issues can make a tremendous difference in everyday lives and I sincerely enjoy the connections with my patients.
What is one thing that you'd like people to know about your practice?
DR. BIGGER: My number one priority is to provide high quality, individualized care. Our patients trust us with their lives, and we must honor that trust by making sure their therapy is delivered in the safest way possible, based on scientific evidence, and only offered when they can benefit from it. I also feel strongly that there is no onesize-fits-all approach for cancer patients. We must listen to their needs, and adapt our care to their lifestyle.
DR. LAFFERTY: First, I always try to ensure that parents of my patients have a full understanding of what is wrong with their child and the treatment plan, including various treatment options. Second, my overarching goal for each patient is to keep them in the hospital for exactly as long as necessary. I want to get each patient through the height of their illness, then I work closely with their pediatrician to transition their care once they are safely discharged.
DR. SHEA: My practice is just as much about providing medical care as it is about providing peace of mind. I advocate for evidence-based care, but I use a shared decision making approach to meet the individual needs of each patient.