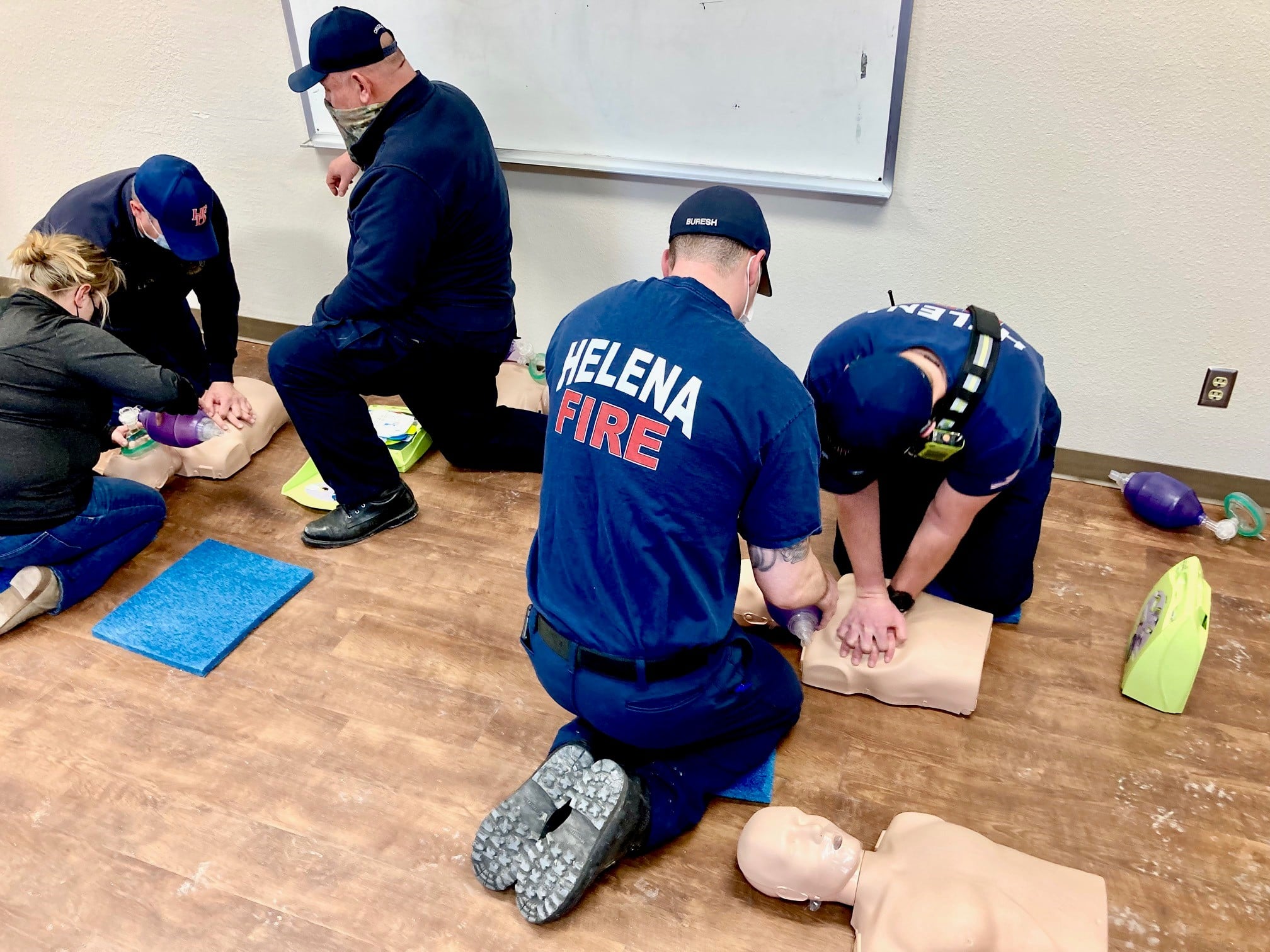 February 25, 2022
I worked as a dispatcher for the Montana Highway Patrol for 14 years before starting at St. Peter's Health as the American Heart Association (AHA) trainer last year. Sometimes, when people learn that I was a dispatcher, they ask: "is there a certain call that you will remember forever?" 
I have responded to all types of emergencies, but I do remember one very clearly. I helped guide a gentleman who had very little cardiopulmonary resuscitation (CPR) knowledge during the call. We were on the phone for 14 minutes, me giving instructions and him giving CPR until emergency services arrived. My passion for teaching people how to do CPR started that day and has only grown. 
What is CPR? When is it needed? 
According to the AHA, more than 356,000 people experience cardiac arrest outside the hospital in the United States each year. Cardiac arrest is when a person's heart stops beating and no longer pumps blood to the rest of the body. It is a serious health condition, so knowing CPR and how to use an automated external defibrillator (AED) is important. Both manual CPR and an AED push blood to parts of the body like the brain and the lungs until emergency services are on scene to perform other potentially life-saving measures and transfer the person in crisis to a higher level of care. 
CPR uses chest compressions to mimic how the heart pumps blood. Like you see in the movies, giving mouth-to-mouth rescue breaths can be part of CPR, and we teach you how to deliver rescue breathes in CPR training. However, you can choose not to perform rescue breaths based on your comfort level. Correctly completing chest compressions, however, is critical. 
Often, CPR and AED use go hand-in-hand. An AED is an easy-to-use medical device that can analyze the heart's rhythm. If necessary, it delivers an electric shock or defibrillation to help the heart re-establish blood flow. Performing CPR on someone in cardiac arrest can help improve their chances of survival, but performing CPR while also using an AED increases the likelihood of survival to 60-70%.
Knowing how to do CPR and use an AED helps save lives. However, many people think that only health care and emergency response professionals can or should know how to do it. I'm here to tell you that's not the case. Here are four reasons why I think it is important to learn CPR and how to use an AED:
Every minute matters in an emergency 
According to the Centers for Disease Control (CDC), a person's chance of survival can be doubled or tripled if someone performs CPR in the first few minutes of cardiac arrest. The saying "every minute matters" is especially important for places like Montana. We are very rural, so emergency service response times can vary after calling 9-1-1. There might be an instance where a 9-1-1 dispatcher will ask you to perform CPR and use an AED while you wait for emergency medical services to arrive. While the dispatcher will help guide you through performing CPR or using an AED, you will feel more confident acting in an emergency if you are already familiar with the methods. 
You will likely need to conduct CPR at an unexpected and inconvenient time
Certain health conditions can place people at an increased risk of cardiac arrest, but it's important to understand that cardiac arrest can affect anyone. Sudden cardiac arrest (SCA) can occur at any age, which is why it is important to know adult AND infant CPR.  
You could save the life of someone you love or even a stranger
According to the CDC, seven out of 10 cardiac arrest events happen at home, and most of the time, family members are the first to respond in a medical emergency. 
It doesn't take long to learn
No one wants to find themselves in an emergency, but if you do find yourself facing a crisis, you'll be glad that you know what you can do to help. The AHA makes it easy to find a class near you, plus they offer an array of other courses, including infant CPR and First Aid classes. Plus, the cost is fairly minimal. Some employers will even pay for you to complete the class. Overall, proper, basic CPR training only takes a few hours of your time but gives you a wealth of knowledge and familiarity to last a lifetime.
St. Peter's offers both adult and pediatric Heartsaver® First Aid CPR and AED Courses. Courses are taught in a blended learning format including online and in-person. Students must first complete the online portion, followed by the hands-on skills session conducted by our American Heart Association Training Center instructor. Students who successfully complete the online course and skills session will receive a Heartsaver® CPR AED Course Completion Card that is valid for two years.
If you would like to set up a Heartsaver® First Aid CPR AED course for your place of work or team outside normal class offerings, please contact St. Peter's Health and American Heart Association's Training Center Coordinator for more information.
Brandy Lamping is the is the American Heart Association Training Center Coordinator at St. Peter's Health. She administers and coordinates a number of American Heart Association courses for St. Peter's employees, as well as for private groups and individuals. Brandy has nearly 16 years of experience in emergency response and has been with St. Peter's for a little over one year.