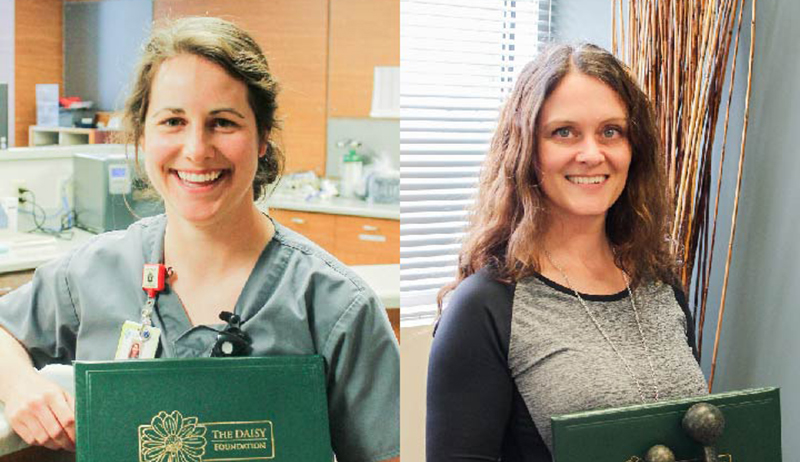 May 22, 2019
Every quarter, we recognize nurses who deliver exceptional care by awarding the DAISY Award for Extraordinary Nurses. The nurses are selected quarterly from nominations submitted by St. Peter's Health patients, family members and colleagues. Congratulations to the spring 2019 recipients:  
Daisy Award Recipient - Christine Erickson, LPN (Psychiatry) 
In the words of the colleague who nominated Christine Erickson, LPN for the compassionate care she provides each and every patient:
"Chris has taken on the role of nurse for psych and it is a challenging job. The other day a patient with active suicidal actions called and Chris maintained her cool and kept engaging the patient.... Chris has a heart for this clinic and it shows time and time again." 
Daisy Award Recipient - Tessa Neameyer, RN (Patient Care Services)
From the patient who recognized Tessa Neameyer, RN for the extraordinary care she delivers: 
"During my stay at St. Peter's, although brief has left a lasting memory. Tessa was thoughtful and generous. She went out of her way to calm my fears and make me and my family feel welcome and safe. She spoke with the ambulance and flight crew, called ahead to the University Hospital to ensure a smooth transition. When my husband left during this process she not only checked on me but comforted and consoled me when I became overwhelmed by the magnitude of my condition. Her constant care and vigilance made my stay unforgettable...Tessa definitely deserves recognition for her outstanding job performance as well as her equally enchanting natural light and positive energy she brings to all her interactions."
The DAISY Award (daisyfoundation.org) was established to honor the super-human work nurses do in direct care of patients and families every day. It is presented in collaboration with The American Organization of Nurse Executives. Recipients receive a certificate and a sculpture called A Healer's Touch, hand-carved by artists of the Shona Tribe in Africa. 
Congratulate and thank Christine and Tessa on our
Facebook
 today!