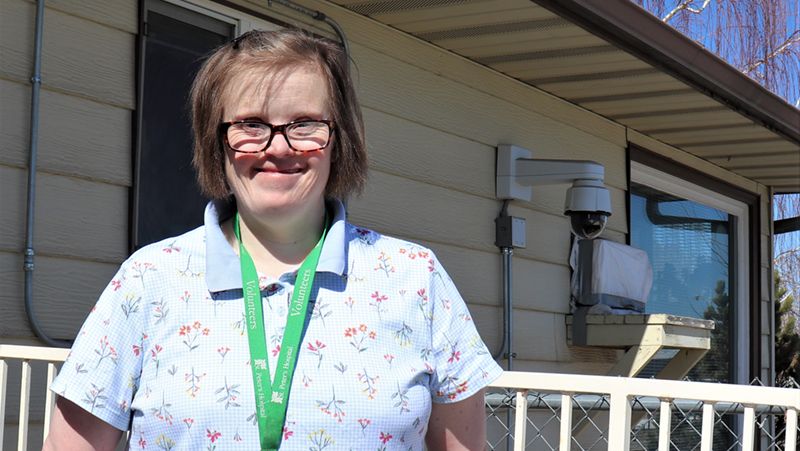 April 17, 2023
It's National Volunteer Week, and while our volunteers are the best, hands down, there is one volunteer we'd like to highlight this year. Sarah Donnelly has been a part of St. Peter's and, more specifically, the Pete's Place family for many years. Donnelly was among the first children to attend Pete's Place when it opened in 1986. She has worked as a volunteer there for more than 20 years.
Donnelly's parents, Peter and Lynn, say going to work gives her a purpose and a routine, "She makes her lunch each night and lays out her clothes preparing for work the next day."
Donnelly loves working with the young children at Pete's Place. "The way she lights up when she sees them is worth a million dollars," says preschool teacher Tanny Lamere.
A diligent volunteer, Donnelly takes on many duties at Pete's Place. She does the dishes, transfers laundry, takes out the infant garbage, helps the teachers, and prepares the snacks for the day. When asked what her favorite daily task is, "The dishes," she says without hesitation.
"She is always prompting us to ensure we are done with our dishes in a timely manner," says Heidi Hultin, Early Childhood Lead Teacher in the Infants Room at Pete's Place. "She keeps us on schedule and loves her routines," says Lauren Bergman, Early Childhood Lead Teacher in the Toddler Room.
Donnelly has a special bulletin board at the facility. Brandie Lorenz, Program Director of Child Care at Pete's Place, decorates it with selfies taken by Donnelly and "Miss Brandie." The board is one small representation of Sarah's value to the staff and children.
"She will always tell you Brandie is her boss, and if Brandie isn't there, well, then Sarah is the boss," says assistant teacher Selena Huth.
Donnelly's parents are thrilled that she has found a place where she feels she belongs and has a 'family' to work with. "Her work gives her a broader perspective of life. We appreciate her coworker's acceptance and assistance."
"We are truly blessed to have Sarah as a member of our Pete's Place family," says Pete's Place Program Director Brandie Lorenz.