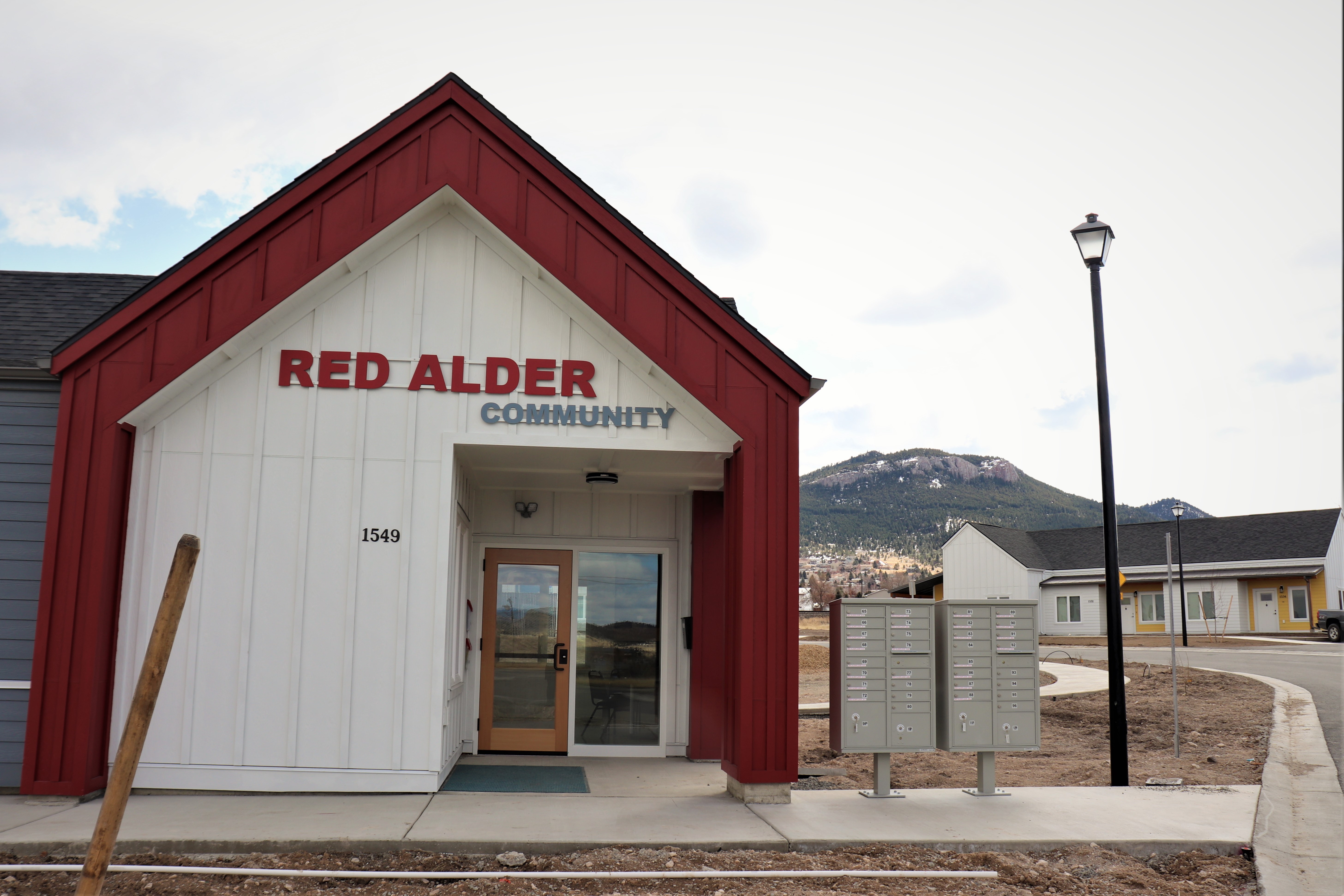 March 29, 2021
On March 4, 2021, Sue signed a lease and received her keys to her brand new home at Rocky Mountain Development Council's Red Alder affordable housing subdivision on Helena's westside.
Like for so many in our community, the past year has been challenging for Sue. At times, the challenges seemed insurmountable. She was undergoing on-going and complex treatment for breast cancer, and she became homeless after a transition with her former living situation.
There's no doubt that non-medical factors can impact health outcomes. The relationship between Sue's health condition and her housing situation was symbiotic and not a good one. Sue's breast cancer diagnosis resulted in personal challenges, and her lack of safe, affordable housing negatively impacted her mental and physical health.
Housing is a critical social determinant of health. The Centers for Disease Control and Prevention (CDC) recognizes that the "conditions in the places where people live, learn, work, and play affect a wide range of health and quality-of-life-risks and outcomes."
But with help from a friend, St. Peter's Health Social Services Coordinator Courtney Marney, Sue now has a place to call home.
Courtney is a member of the St. Peter's Health Population Health team. The Population Health team is committed to looking upstream at health issues, finding ways to prevent illness by promoting healthy living and improving overall well-being.
Finding a safe place to call home
Sue credits Courtney for helping her find stability. "Without Courtney, I don't know where I'd be," said Sue. "Courtney is an exceptional individual that is always ready to help. She has information at her fingertips, and if she didn't, she'd always reach out to get the information that I asked about."
Together, Courtney and Sue filled out dozens of applications for housing. And, Courtney helped connect Sue to Good Samaritan Ministries, a local nonprofit committed to providing services to meet the physical, social, emotional and spiritual needs of individuals and families of all faith, especially those most in need. Good Samaritan was able to provide housing vouchers and support thanks to a grant from the CARES Act.
"When I first met Sue, she was going through a lot. She was experiencing lots and lots of emotions related to her medical concerns, on top of the housing stress," said Courtney. "I was able to connect her to our behavioral health professionals and then get her connected to temporary housing through a grant from Good Samaritan. Those have been the most beneficial things in the time that we've worked together."
Sue and Courtney agree that it takes people working together to help people going through hard times in our community. They also agree that the most important thing to do is raise your hand and ask for help if you need it. Someone like Courtney will be there to grab your hand and help lift you.
"We live in a very challenging time - the pandemic, cost of living," said Courtney. "Do not hesitate to tell your doctor that you're struggling with things that you may not consider to be part of your medical care. Tell your doctor if you do not know where your next meal may come from or that you do not have a safe place to live. They can help connect you to people like me who are here to help."
Sue says it was hard for her to ask for help.
"It can be really difficult to reach out," she said. "But I did, and now I have a roof over my head. When you reach out and ask for help, you know that you have someone to work through it with you. That you'll reach a good outcome, together."
When looking to the future, Sue is excited to call Red Alder home. She says that they have deliberately made it a multi-generational neighborhood with a real sense of community. There is even a small community center for when people can safely gather in groups again.
Courtney currently works with primary care providers at St. Peter's clinics but will be transitioning soon to a new role at St. Peter's. She'll be serving as a social services coordinator in the Emergency Department. Her colleagues and Sue both know that she will excel, helping people during a scary and stressful time. In Sue's words, "Her smile, her outgoing personality, her concern other people -- all of that-- it's very helpful. She will do all she can to help others because that's just what she does."