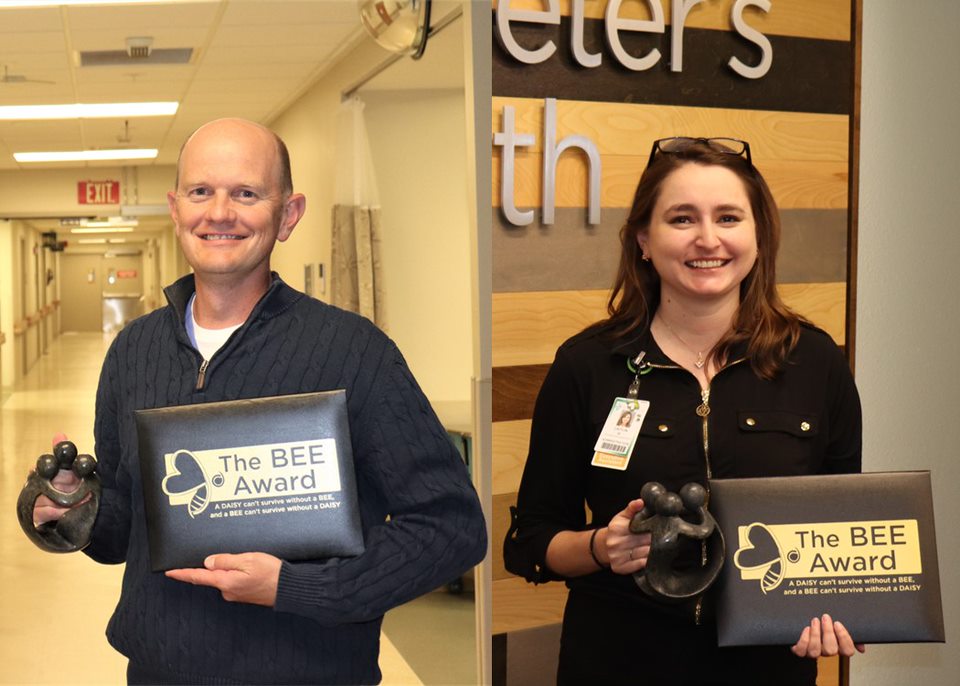 August 9, 2022
St. Peter's Health presented a BEE Award to Emergency Physician Dr. Andy Coil and Executive Assistance Caitlin Rock. A companion to the DAISY Award for Extraordinary Nurses, St. Peter's presents BEE Awards to any exceptional general or professional St. Peter's staff member nominated by patients, family members and/or colleagues.
The staff member who nominated Dr. Coil was experiencing post-traumatic stress disorder (PTSD) when Dr. Coil noticed something was wrong. Dr. Coil was preparing to leave for the night, and he stayed to ensure the staff member was okay, letting them know how much the emergency department staff cared and appreciated them. In the words of the staff member, "that meant a lot. I felt accepted and part of a team, a sense of belonging that I hadn't felt before. His compassion helped me regain my composure so I could stay and finish my shift."
Rock is the Executive Assistant Chief Nursing Officer and the Vice President of St. Peter's Health Foundation. Rock developed the BEE Award, and the staff member who nominated her said, "she makes others feel special with celebrations and love."
If you would like to nominate a St. Peter's staff member for the BEE Award click HERE.