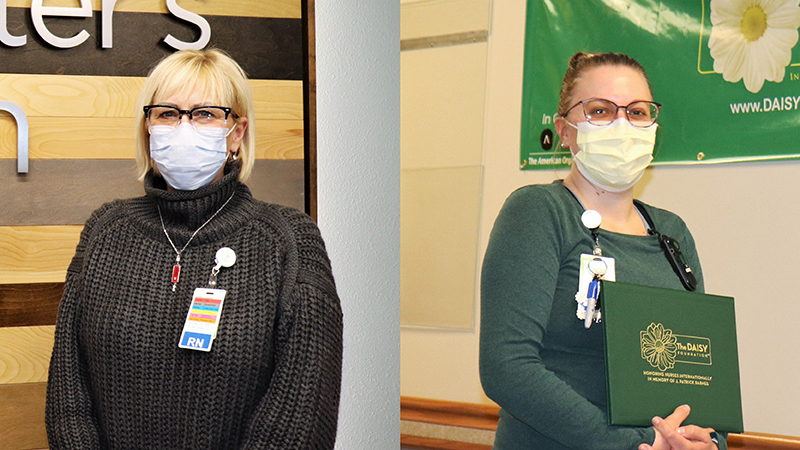 December 20, 2021
St. Peter's Health Registered Nurses Rhonda Hinrichs and Samantha Bradley received DAISY Awards for Extraordinary Nurses. DAISY awardees are selected quarterly from nominations submitted by St. Peter's patients and their family members. 
Hinrichs is the St. Peter's Practice Administrator for Primary and Urgent Care and has been a registered nurse for 35 years. A local couple nominated Hinrichs after she connected them to timely COVID-19 testing. Hinrichs has been with St. Peter's for 20 years. 
Bradley works as a registered nurse on the Medical floor and has been with St. Peter's since 2019. One of the patients who nominated Bradley said their luck turned when Sam became their nurse, "She [Sam] is very caring… I was admitted to the hospital after hours in the ER. I was very tired, confused and uncertain of what was ahead. Waiting in the room to greet me were three nurses, that made me feel welcome. Sam was my nurse." 
The DAISY Award was established to honor the super-human work nurses do to care for patients and families every day. The award is presented in collaboration with The American Organization of Nurse Executives. St. Peter's Health administration and staff select the winner from those nominated. Recipients receive a certificate and a sculpture called A Healer's Touch, which is hand-carved by artists of the Shona Tribe in Africa.