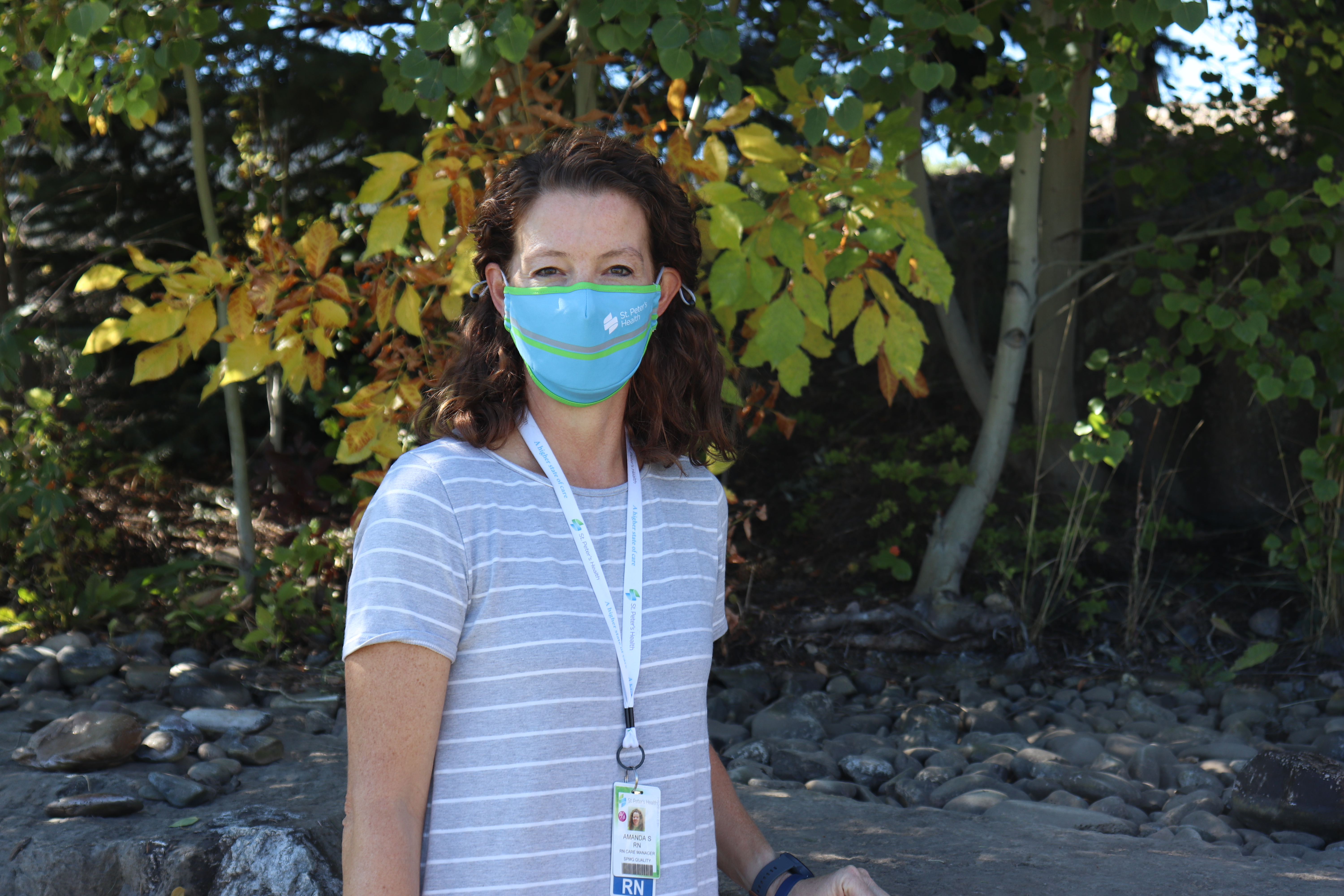 October 26, 2020
Matt Aakre: Laboratory Services Operations Manager and Youth Sports Volunteer Extraordinaire
If you can name a sport, one of Matt's kids has probably done it – wrestling, football, baseball, basketball, soccer, and softball. You can most often find Matt right alongside them, coaching youth sports for organizations like Bearcat's Wrestling, Ambush Flag Football, Small Fry Football, Elkhorn Basketball, North Jefferson Baseball, YMCA Basketball, YMCA Baseball and Helena Girls Softball Association. 
"Working in St. Peter's Health Laboratory Services and being involved in many of the great athletic groups in town, brings me such a rewarding sense of involvement and purpose. We have an amazing community and an incredible health system supporting it in so many ways."
Sarah Elliott, RN: Director of Complex Care and Active Parent
Sarah Elliott was born and raised in Helena, and now she's raising her own young family in our community. Sarah is committed to supporting children by giving them the healthiest start. She sits on the Hawthorne Elementary School Parent Council and serves as a Helena Youth Soccer Association coach.
"I'm so fortunate to be able to be an active parent and have a fulfilling career. My work in Population Health highlights the need for a healthy lifestyle to start at a young age, and I've found soccer coaching to be a bit of a mindfulness activity – you can't think about much else when you're helping a group of first-graders develop their soccer skills!"
Kendra Lenhardt: Senior Director of Business Development and Education Advocate
Kendra's children were on a horse before they could walk. You'll find Kendra and her family on the road for rodeo on most weekends (enter volunteer). When not at work or with her family and horses, Kendra spends her time volunteering with the Helena Education Foundation.
"I feel so incredibly fortunate to be back in Helena. Not only serving the community where I was born and raised, but also given the opportunity to raise my own children here."
Andrea Groom: Vice President of Communications and Healthy Eating Promoter
Andrea Groom loves to cook healthy meals for her family, and especially loves to cook with her kids. Andrea wants all kids in the Helena area to have access to healthy, nutritious food. That's why she volunteers her time serving on the Helena Food Share Board of Directors, helping to create a hunger-free community.
"Eating nutritious foods regularly has such a significant impact on overall health and wellness. I want to do everything I can to ensure all children in Helena have enough healthy food to eat."
Jennifer Colegrove, RDN: Clinical Nutrition Manager and Soccer Master
In her day job, Jennifer Colegrove helps people in our community live their best life by optimizing their nutrition lifestyle. After work hours, Jennifer serves as the Recreational Director for Helena Youth Soccer Association, encouraging kids to be active while developing lifelong love of sport and physical movement. She has also been an active soccer referee for the past 12 years.
"My boys grew up playing soccer and our entire family reffed the game. We had many great times and met great people as participants. So when I became an empty nester and my boys went off to college, changing over to the administrative and programming side was a way to stay involved with the game while nurturing other players, families, and refs through the sport that brought great joy to my own. It's also a contrast to what I do in my clinical work at the hospital, yet similar in the sense of promoting health and wellness. Seeing kids running, laughing, and having fun never gets old."    
Amanda Sell, RN: Service to our Community and Country
Amanda Sell was recently promoted to Manager of Care Management at St. Peter's Health, where she works closely with system-wide care teams acting as a resource in the development and maintenance of an empowered, engaged and thriving team of case managers, social workers, chaplains and supporting staff. Care Management involves the development of processes to appropriately evaluate patients to determine necessity of care, efficient care delivery and safe discharge planning. Amanda strives every day to be a resource for developing a strong understanding of "best practices" for both inpatient and outpatient clinic staff for problem solving and a team approach. Amanda has also served our state and country for the past 30 years in the Montana National Guard, most recently as a Command Sergeant Major in the 208th Regional Training Center.
"I believe in the quote by Desmond Tutu "We need to stop just pulling people out of the river. We need to go upstream and figure out why they are falling in." Population health works to promote upstream healthcare through positive transitions and improved utilization of services through an upstream approach to well care. I am so grateful to be part of a team willing to work each do with this goal in mind."
Ginger Baker: Project Manager and Community Gardener
Whether managing the construction of a new clinic or managing the harvest of her backyard garden, the fruits of Ginger's labor benefit our organization and local food banks like Helena Food Share.
"Making things better is just many small acts that amount to bigger or better things. I like to be busy and create things that benefit my community, whether that is my work community through building a new service, my neighborhood community by growing extra food to share with those in need, or my professional community by shaping new guidelines. I just want to add my small contributions toward bigger, better things for my communities. I had very high hopes, but it's been a tough end to summer with grasshopper hordes or herds of deer and rabbits. My contributions are not as much as I hoped, but between my greenhouse and chickens, I hope to keep stepping in to help where I can though the winter months, and so far I've contributed 153 pounds to date."
Bruce Tyler: Environmental Services Director and Team Leader
Bruce Tyler has been leading our Spirit of Service (SOS) team at St. Peter's Health for six years. He and his family are always helping at St. Peter's annual Family Fun Fest. But Bruce's volunteerism isn't just a once a year event. You can regularly find him helping with Boy Scouts of America and Family Promise. He also sits on the Lewis and Clark County Emergency Preparedness Committee, presents and trains at the Future Health Professionals of America, and is a local leader in Toastmasters.
"The responsibility of a Healthcare organization to its community, must be a deciding factor in every-day operations. The leaders at St. Peter's Health have taken this dedication to our community a step further, by endorsing the time we spend volunteering outside of our normal work day, and it's difficult to express how wonderful it is to work in that kind of environment."
Michelle Rush, MBA, CPHRM, CHC: Compliance/Risk Officer - Expert and Knowledge Sharer
Michelle Rush shares her compliance and risk expertise, both inside and outside our walls. Michelle is the President for the Montana Society of Healthcare Risk Management and a volunteer on the American Society of Healthcare Risk Management Task Force. Over the past year, she also helped update the national certification exam for individuals to become a Certified Professional in Health Care Risk Management. Michelle reflects on her ten years here, "To this day, I am still humbled and grateful that St. Peter's gave me the opportunity to work in this profession. Every day I strive to serve with integrity and never lose sight of doing the right thing right."  
Cindy Bultena, MSN, RN: Chief Nursing and Patient Experience Officer and Champion for Loving-Kindness
Cindy is deeply committed to serving St. Peter's staff, patients and community with dignity respect and loving kindness. In her work with the Friendship Center, she supports St. Peter's SANE nurses in providing compassionate care to victims of sexual assault. Recently the SANE nurses created care kits which are given to those they care for. She partners with leadership to provide loving kindness through the Lavender Love Program which was launched during COVID. Recently, this same loving kindness was shown to all of our schools through the delivery of a poster signed by SPH leaders and staff as well as lavender frosted heart cookies. It was St. Peter's way of saying a BIG THANK YOU for all they are doing for our school aged children. 
Debbie Cronin, RN: Director of Patient Services and Community Helper
Debbie never sits still – her job takes her all over the hospital, coordinating patient care. Debbie is also on-the-go at home, active in her church. She often helps prepare and deliver meals to families experiencing hardships.
"In my spare time, I love to can. I enjoy treating my family, friends and colleagues to my various homemade jams and canned spicy vegetables."