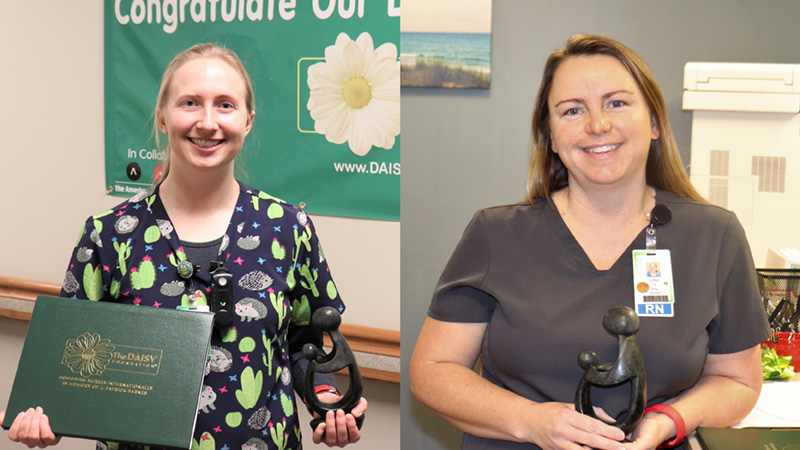 December 23, 2022
St. Peter's Health Registered Nurses Courtney Radke and Gina Spurzem received DAISY Awards for Extraordinary Nurses. DAISY Awardees are selected quarterly from nominations submitted by St. Peter's patients and their family members.
Radke has worked as a Registered Nurse on the Medical Floor since 2020. The patient who nominated her said, "My blood pressure went extremely high (200) it's never high and I was extremely scared. She stayed with me, held my hand and talked about my family to calm me down. She was so kind and caring."
The palliative care team member who nominated Spurzem noted, "Gina has been at the forefront of managing care for the robust panel of Palliative Care patients. She is aware of patient needs and works to address not only their medical issues, but serves to see their social, emotional, familial and other concerns are met."
The DAISY Award was established to honor the super-human work nurses do to care for patients and families every day. The award is presented in collaboration with the American Organization of Nurse Executives. St. Peter's Health Administration and staff select the winner from those nominated. Recipients receive a certificate and a sculpture called a Healer's Touch, which is hand-carved by artists of the Shona Tribe in Africa.