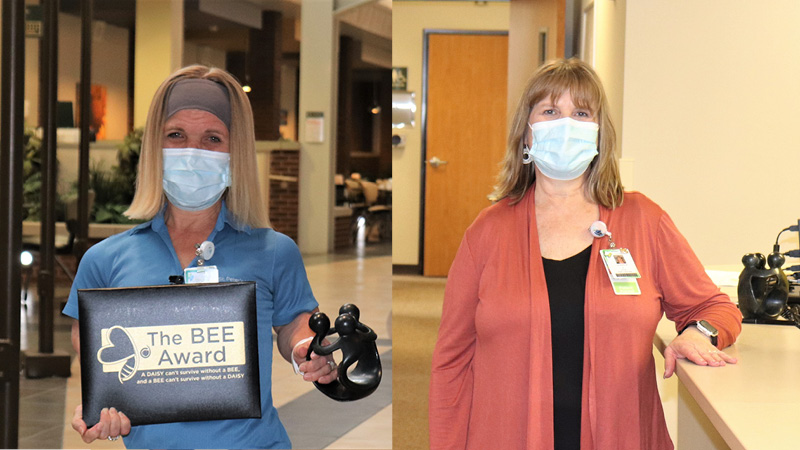 May 5, 2022
St. Peter's Health presented BEE Awards to Lead Environmental Services Aide Sarah Roll and Health Unit Coordinator Sharla Suurendonk. A companion to the DAISY Award for Extraordinary Nurses, the BEE Award is given to any exceptional general or professional St. Peter's staff member nominated by patients, family members and/or colleagues.
A nurse on the St. Peter's Behavioral Health Unit (BHU) nominated Roll for her reliability and hardworking attitude. The nomination shared, "she goes above and beyond as she takes on extra shifts and helps others during her workday to ensure their work is completed." Roll has been a member of the St. Peter's team since 2016.
The nurse who nominated Suurendonk said she is an invaluable member of the St. Peter's infusion team. "Sharla often works with patients setting up appointments and handles scheduling issues," the nomination shared. "She is quick to find solutions when needed and a wonderful coworker to have." Suurendonk has been with St. Peter's since 2008, and during her tenure she has worked in a variety of specialty clinics before working in the Infusion Clinic at St. Peter's.