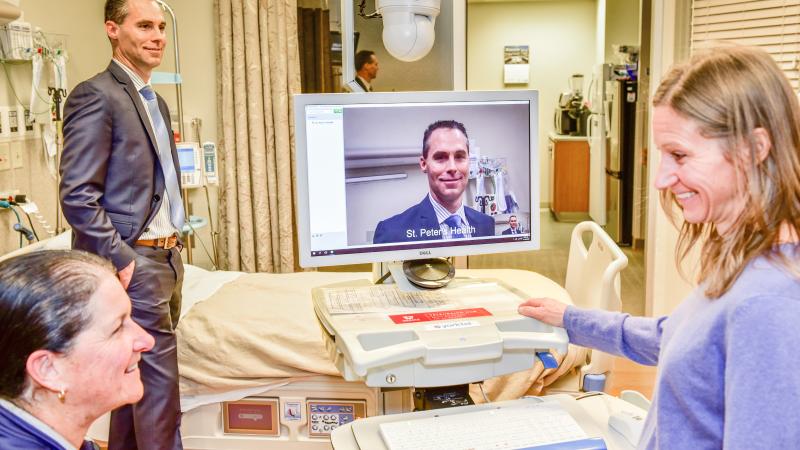 Stronger together
In November 2018, we announced an academic affiliation with University of Utah Health. The affiliation provides St. Peter's with access to University of Utah physicians, specialists and clinical staff through telehealth, as well as the sharing of clinical best practices, research advances, operational efficiencies and a wide range of educational resources.
Read a full FAQ about the affiliation 
Watch the full video of the affiliation announcement from 2018 
Telehealth with U of U
Using advanced technology for telehealth, St. Peter's Health has 24-7 access to U of U Health physicians for high-risk medical specialties like advanced burn, critical care and stroke care.
TeleICU was introduced in November 2018 and is utilized by our physicians for some of our most critically ill patients in the Intensive Care Unit. According to Dr. Ashley Coggins, "TeleICU allows our physicians treating critically ill patients in our ICU to consult directly with intensive care specialists from U of U Health using a secure audio-video platform. This gives our staff and the patient's family peace of mind as we are treating the patient and reduces transfers to other facilities, which may introduce a host of other challenges inherent to being far away from home."  
TeleBurn: St. Peter's has participated in the U of U TeleBurn program for more than a decade. 
TeleStroke was introduced in October 2019 and is often utilized by physicians in our Emergency Department. 
TeleNeuro was introduced in Summer 2020. The TeleNeurology program allows St. Peter's Health hospitalists to consult directly with a neurologist at the U of U for inpatients at the Regional Medical Center (hospital) when the St. Peter's neurologist is unavailable.