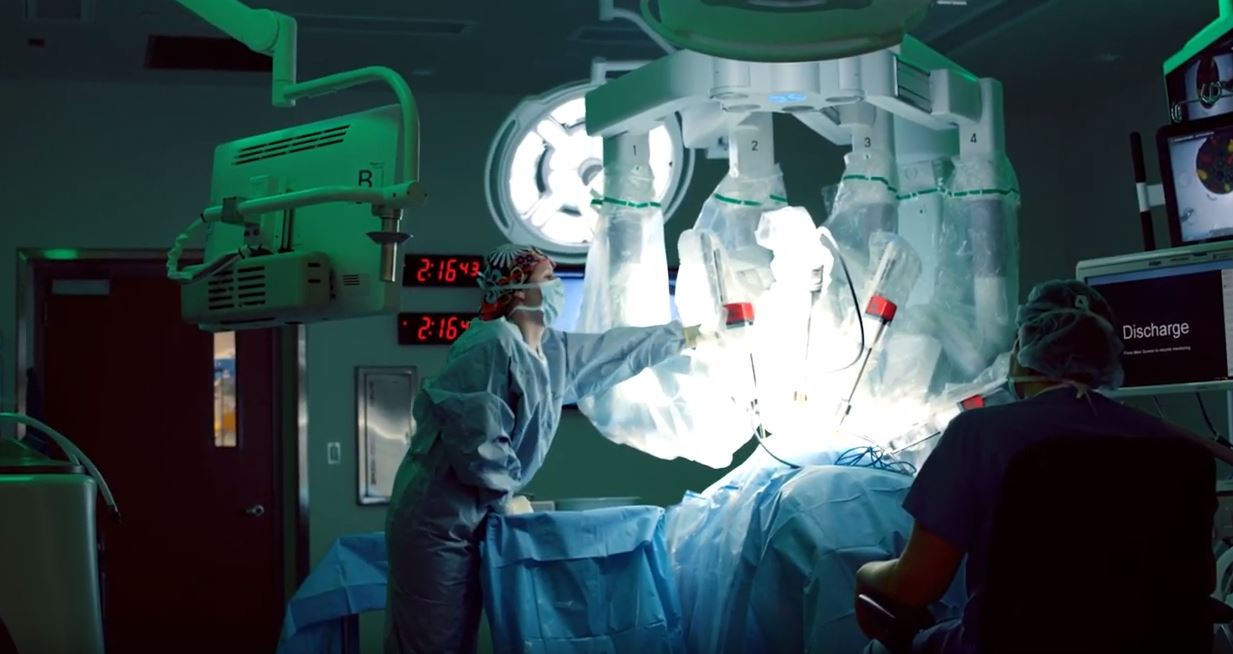 January 29, 2020
Nephrectomy – prostatectomy – cystectomy.
Or, in non-medical terms:
The surgical removal of all or part of the kidney, prostate and bladder.
These are all surgeries that we are able to complete here in Helena thanks to robotically-trained surgeon and urologist Dr. Kevin Brown, the da Vinci Xi™ robot and a skilled Operating Room team.
Program Launch
The St. Peter's Health robotics program launched in mid-2019. In addition to allowing St. Peter's medical staff to complete new surgeries, it also provides the opportunity for patients to have surgeries like hysterectomies or hernia repairs completed locally by robotically-trained surgeons.
Benefits of robotic surgery can include shorter hospital stays, reduced pain, smaller scars and faster recovery time.
It took a team of dedicated medical professionals to launch the new program, including surgeons, anesthesiologists, scrub techs, nursing staff and sterile processing team members.
Courtney Pickens is a certified surgical tech at St. Peter's and is a member of the robotic surgery team. Courtney advanced her career by pursuing additional education and training opportunities so she could join the new team,
"I joined the robotics team because I always want to learn new things and expand my knowledge."
Medical professionals in our operating room participated in extensive education and training in advance of the program launch, traveling to Las Vegas, Nev. to observe surgeries, completing journal reviews for cases, participating in 'dry runs' and doing education modules to gain proficiency.
"Our team put in a lot of extra time and effort to make sure we were clinically ready to take excellent care of our patients."

 

-Robotics Program Coordinator and OR nurse Merrill Taylor, RN, CNOR
To date, over 50 robotic surgeries have been completed at St. Peter's Health.
The robotics program is part of the organization's $10 million operating room renovation project, which is scheduled to be completed in 2020. When completed, St. Peter's will have six state-of-the-art surgical suites. The surgical suites will include expanded space and new technology like antibacterial lights and touchscreen access to medical records. (That's right, antibacterial lights. Learn more about the Indigo-Clean continuous disinfection technology here.)
Robotic-assisted surgery at St. Peter's Health