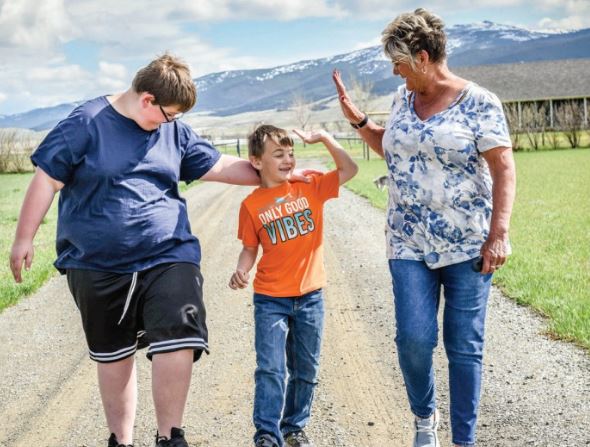 June 5, 2023
Specialized spine surgery helps East Helena woman get back to enjoying life pain-free
Shortly after St. Peter's Orthopaedics welcomed Dr. Patrick Curry back to Helena in August, he met with East Helena resident Tracie Grimm.
Tracie lived with debilitating back and hip pain for years, most likely caused by an injury from a horse riding accident.
"I tried yoga, chiropractic manipulation, physical therapy, injections – you name it, I tried it so I could avoid surgery," Tracie said. "But it got to the point I couldn't walk without pain, so I was referred to Dr. Curry."
Dr. Curry is a board certified and fellowship-trained orthopaedic spine surgeon who provides surgical and nonsurgical care for the spine, back and neck. Having a local option for highly specialized surgical care meant Tracie could stay close to home before, during and after surgery.
She had back surgery in December when Dr. Curry fused several discs together and shaved a bone that was pinching a nerve.
According to Dr. Curry, understanding options is essential for anyone considering back surgery. For many people, initial treatment often involves non-operative care.
"After that, we have a discussion about what type of surgery would be most beneficial for their problem," he said. "I really try to tailor what we do surgically to what the patient wants to get out of surgery."
Tracie's recovery process was intense, but she's now pain-free and back to enjoying an active life as a "nanna" of three.
"I couldn't be happier with the outcome of my surgery," she said. "Dr. Curry is a no-nonsense, straight-tothe-point kind of guy. He doesn't quit until he is sure you understand what the procedure will entail and how things will be done."
Learn more about Dr. Curry here