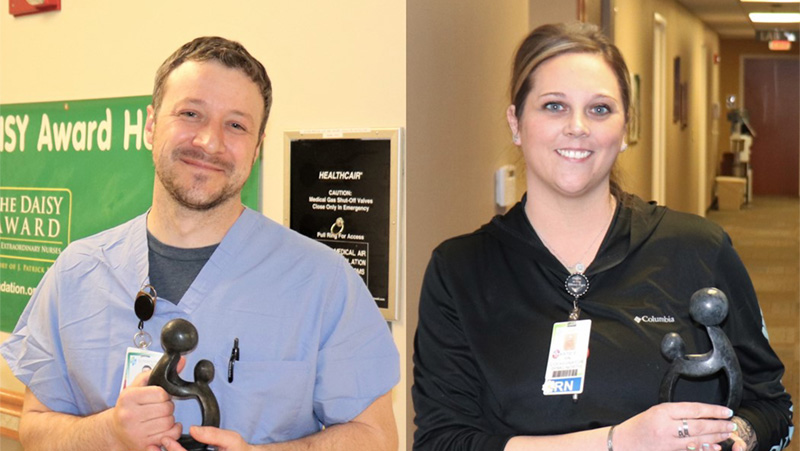 April 13, 2023
St. Peter's Health Registered Nurses Cody Auck and Katie Eslick received DAISY Awards for Extraordinary Nurses. DAISY Awardees are selected quarterly from nominations submitted by St. Peter's patients, their families and fellow colleagues.
Auck works as an RN in the Emergency room. The patient who nominated Auck said, "My son and I have been to the ER many times, and each time Cody has been so kind, helpful and passionate. He is patient with my baby and is very positive while discussing treatment. He helped feed my baby when I was flustered and needed help but didn't know how to ask."
The colleague who nominated Eslick described an emergent situation in which Eslick's quick actions helped a patient in crisis who had fallen and was having difficulty breathing in the lobby of the North Clinic. "Because of her empathy and quick actions, Katie helped keep everyone else in the lobby calm that morning and put the patient first."
The DAISY Award was established to honor the super-human work nurses do to care for patients and families every day. The award is presented in collaboration with the American Organization of Nurse Executives. St. Peter's Health Administration and staff select the winner from those nominated. Recipients receive a certificate and a sculpture called a Healer's Touch, which is hand-carved by artists of the Shona Tribe in Africa.