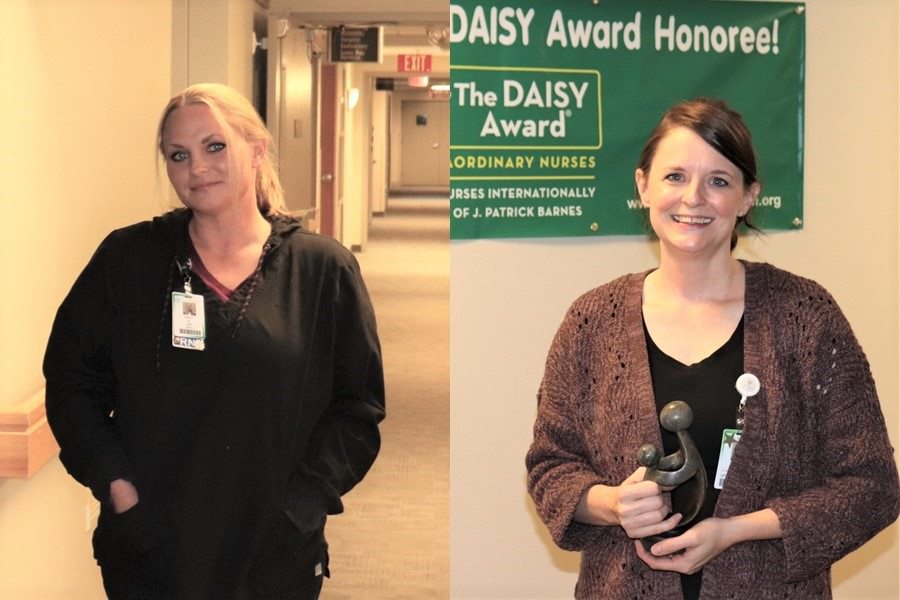 October 4, 2022
St. Peter's Health Registered Nurses Addy Barrett and Tana Redfern received DAISY Awards for Extraordinary Nurses. DAISY Awardees are selected quarterly from nominations submitted by St. Peter's patients and their family members.
Barrett has worked as a Registered Nurse in St. Peter's Behavioral Health Unit since 2017. One of the patients who nominated her said she made them feel validated, "Addy knows how to meet me at my level. I was having one of the hardest nights of my life and Addy recognized this. She took precious time to be with me and made me feel not only cared for but understood."
Clinical Care Manager and Registered Nurse Tana Redfern has been with St. Peter's since 2019. The provider who nominated her said she went the extra mile in helping a patient through a difficult time, "Tana assisted a patient of mine with worsening depression and suicidal ideation by providing support, kindness and empathy. He came to see me and told me that because Tana cared and treated him with kindness, he no longer felt suicidal."
The DAISY Award was established to honor the super-human work nurses do to care for patients and families every day. The award is presented in collaboration with the American Organization of Nurse Executives. St. Peter's Health Administration and staff select the winner from those nominated. Recipients receive a certificate and a sculpture called a Healer's Touch, which is hand-carved by artists of the Shona Tribe in Africa.