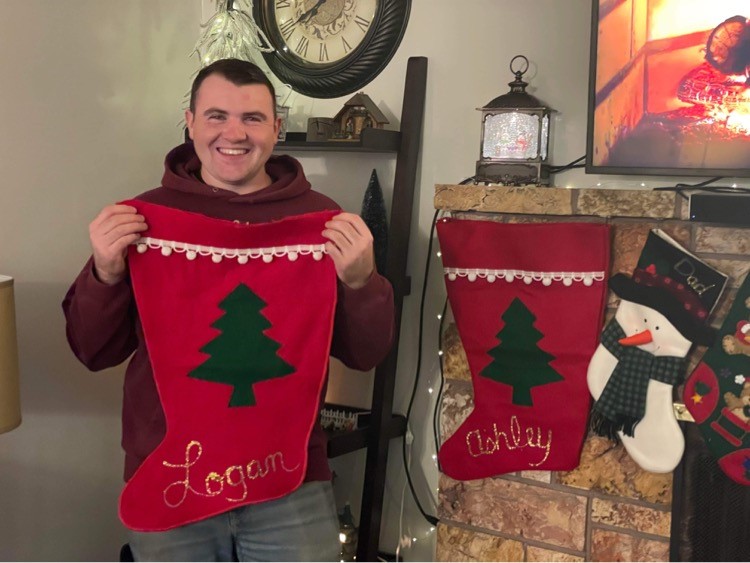 December 2, 2022
Volunteers sew handmade stockings gifted to hospitalized community members and newborns during the month of December
St. Peter's Hospital Association "Arlene Mathews Sock Sew" volunteers are celebrating 69 years of making handmade stockings for those who are hospitalized at St. Peter's Health and babies born in the month of December at the Regional Medical Center (hospital). The tradition was started by former St. Peter's obstetrics nurse and long-time volunteer and association leader, Arlene Mathews. Mathews started the effort from her basement in 1953. She passed in 2020, but dedicated volunteers have ensured the long-loved tradition continues. This year, on December 5 from 9:00am – 1:00pm at the St. Peter's Health Regional Medical Center, around 30 volunteers and their family members are gathering to sew and decorate stockings for community members hospitalized this holiday season.
Volunteer Nan Cervenka has been at the helm of the sock sew coordination for the past five years. "This simple gesture shows people who are hospitalized over the holidays that someone cares and is thinking about them, especially when they can't be with their families or loved ones," said Cervenka. "Our hope is that one of these stockings brings a smile to their face."
For Helena resident Tina Wooley, that smile returns year after year as she hangs two stockings on her fireplace, one for each of her children born in December at St. Peter's over 20 years ago. "I remember going into labor on November 30 and telling myself 'you can't have this baby until December 1 so we can get a stocking'," said Wooley. "Sure enough, my little girl was born on December 1, 1999 at 12:46am and then a little over a year later, my son was born on December 16." Today, the stockings bring back cherished memories as she celebrates each Christmas with her grown children who are now almost 22 and 23 years old. "I remember when my kids were young always pointing out that their stocking was big and needed "more" stocking stuffers!" said Wooley.
The St. Peter's Hospital Association is a volunteer organization that was formed in 1921 to support St. Peter's Health in providing healthcare services. All the money raised by the Association is given to the hospital and Association members votes on how to allocate the funds raised to support priority needs at St. Peter's. Since its inception, the Association has surpassed one million dollars in providing support to St. Peter's Health.
Interested in becoming a member of the
St. Peter's Hospital Association?