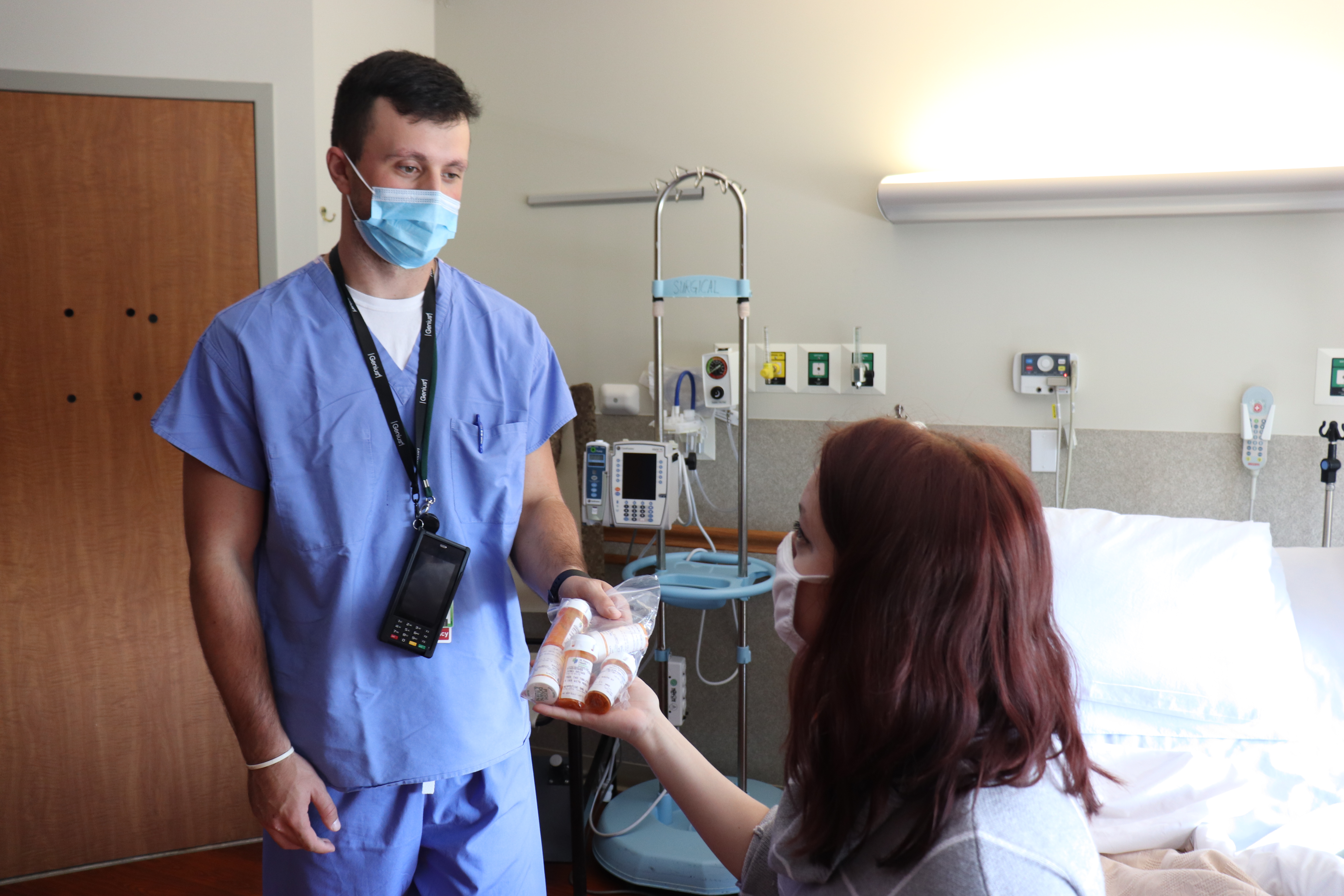 October 13, 2020
A stay in the hospital can be a stressful experience for you and your loved ones. Discharge alone can be overwhelming and intimidating: we share special care instructions, schedule follow up appointments and order medication prescriptions. We know that taking just one task off your plate upon discharge can make a world of difference.
The St. Peter's Health Pharmacy is now offering Meds 2 Beds, a new service where pharmacists and pharmacy technicians' work together to conduct one-on-one counseling with you while in the hospital and personally deliver prescriptions to your room ahead of discharge. This service allows you to bypass the need to stop at your community pharmacy to pick up discharge prescription medications.
How does it work?
When you are admitted to the hospital, a pharmacist or pharmacy technician will visit with you to explain the Meds 2 Beds program. You must enroll in the program to use the service.
If you choose to use this new convenient service, we will ask you to share your insurance information and sign a waiver. When your provider finalizes your discharge medication list, it will be sent to our Broadway Pharmacy to be filled. The only costs associated with the Meds 2 Beds program are for the medications themselves. There are no additional costs incurred for utilizing this program (delivery of discharge medications and pharmacist counseling provided free of charge).  If you are unable to afford medications, the Meds 2 Beds program will work with you to find the best cost solutions. When you are ready for discharge, your medications will be delivered to your bedside and we will collect payment at that time.
According to St. Peter's Clinical Pharmacy Manager Tom Richardson, PharmD, BCIDP, "Thanks to Meds 2 Beds, patients no longer have to make a trip to the pharmacy after their hospital stay," Richardson said. "And, thanks to one-on-one medication counseling, our patients are more likely to successfully take their medications as prescribed once discharged." One motivation for starting this program came from a personal experience for Richardson, "one of my children required a hospital stay and needed prescription medications upon discharge. We just wanted to get home. Not having to make an extra stop after leaving the hospital would have helped immensely."
Through the Meds 2 Beds Program you will be ready to go home and recover, knowing that you have the right medications at the correct dosage, and the comfort of knowing how to take them correctly.
Learn more about the St. Peter's Health Meds 2 Beds program at sphealth.org/meds2beds
Pharmacy team members Martin St. John, PharmD, BCPS, Rachel Moore PharmD, and Tiffany Gruber helped lead the project. "The Meds 2 Beds program not only helps patients by eliminating the need to stop at a pharmacy after discharge, it also brings comfort to pharmacists and providers knowing that patients received all of their necessary medications and appropriate counseling before leaving the hospital," Moore stated. "It is very important for patients to understand the purpose of their medications and likely side effects, and it is a pleasure to help guide them through this aspect of discharge."