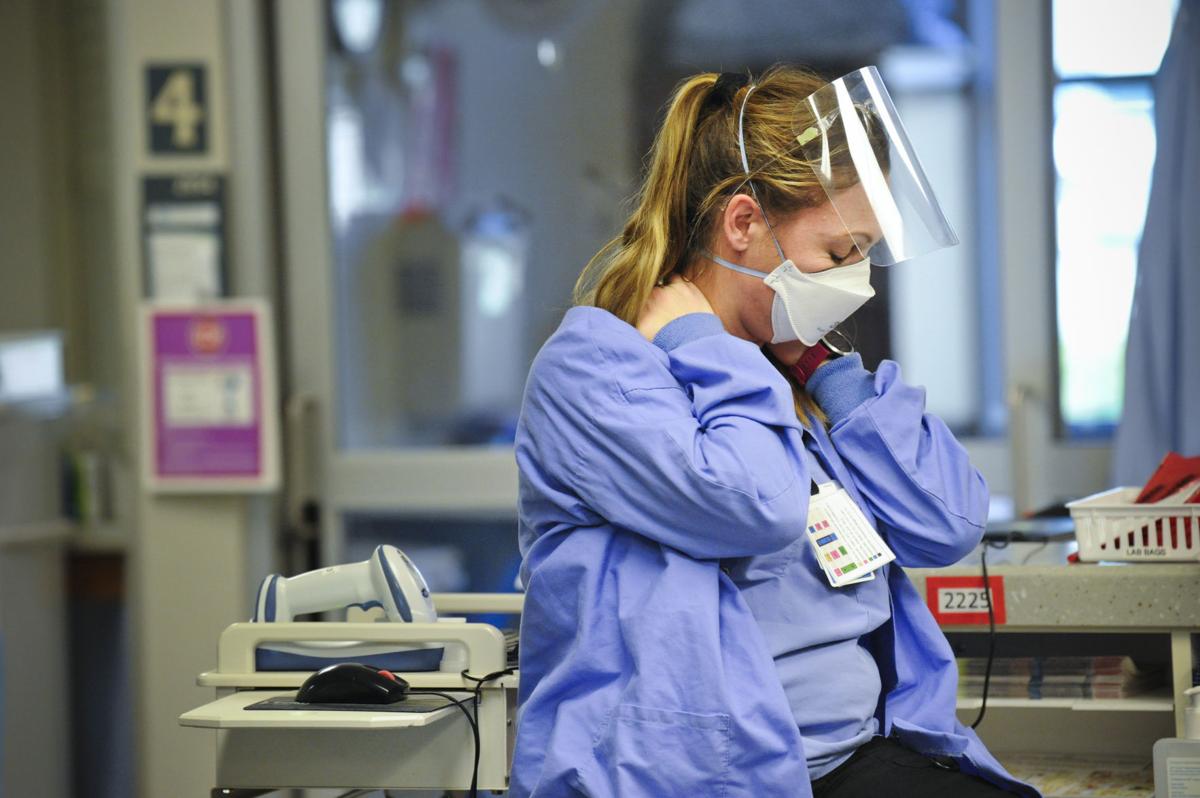 September 1, 2021
Dear Community:
 
It's us again – the caregivers from St. Peter's Health. We shared an urgent message with you in early November 2020 encouraging everyone to mask up, avoid gathering in groups and take other important prevention measures to help slow the spread of COVID-19. Our message now?
 "We need your help, again, Montana."
Today, as we see COVID-19 cases and hospitalizations surge after vaccination rates have flattened, we're asking for your help again. If you're not vaccinated and eligible, please get vaccinated. It's safe, free and readily available in our community.
 
Most importantly, vaccines are the most effective tool we have in the fight against COVID-19.
 
Early in the pandemic, we didn't have many tools to help fight the new virus. We all made significant sacrifices to slow the spread and save lives. Now, we know that vaccines not only help slow transmission, but also help prevent serious illness, hospitalization and death. Today, well over 90 percent of people in hospitals across the country due to COVID-19 complications are not vaccinated.
 
Vaccination efforts during the past seven months continue to confirm that vaccines are safe and effective. In the U.S., over 180 million people are fully vaccinated, including hundreds of thousands of health care workers. On Aug. 23, the FDA granted full approval of the Pfizer vaccination.
 
The unvaccinated population leaves thousands of people—including children—more vulnerable to the virus. Continued spread encourages dangerous mutations like we're seeing with the much more contagious Delta variant, which is causing a surge of hospitalizations and deaths among the unvaccinated across our country. It is not uncommon recently at St. Peter's to have half, or more than half of our ICU beds filled with people experiencing complications from the virus, and a quarter of our medical floor beds.
 
When someone is hospitalized with COVID-19, we use all the tools we have to make them better again, but by the time someone unvaccinated is exposed, we've lost the most effective tool in our fight against the virus: vaccination. 
 
That's why we're asking for your help again. Please get vaccinated if you haven't. While we may want to be done with COVID-19, the virus isn't done with us.
 
As always, we're in this together and together we'll get through this.
 
Sincerely,
 
~ St. Peter's Health Caregivers
A Rasmussen RNC 
Aaron Gams ICU RN
Aaron Padilla RN
Abby Hunthausen, RN
Abigail Todd NP
Adam Plate, MD
Addy Barrett, RN
Al Weinert MD
Alexa Graff RN
Alexia Caldwell, RN
Alice Luehr DNP, RN, CNN
Alissa Abentroth, MD
Allison Bowlby RN BSN
Alvera (Vera) Englund ,LPN
Amanda Evans, RN-C
Amanda Sell, MSN, RN, CCM
Amanda Tyler RT (R)(M)
Amberlee F Ferrier
Amy Emmert, RN
Amy Nelson, RN 
Andrea Groom, M.S., APR
Andrea Hedblom, PA-C
Andrea Mow, D.O.
Andrew C Michel, MD
Andrew Cupino, MD
Andrew Gilbert MD
Andy Coil, DO
Angie Poole, RN
Ann Lansing MS CRNA
Anna Kratz
Anne Anglim, MD, MS
Anthony Green 
Anthony Pierini, RN
April Lemieux
Ashlee Bentley, RN
Ashley Carpenter
Ashley Coggins, D.O.
Ashley Salmon 
Barb Slunaker RHIA
Bennett MacIntyre
Bernadette Miller, LCPC - Behavioral Health with Primary Care
Bethany White, CNA
Betsy Williams, RNC
Beverly Roope FNP-C
Bill Carr, RPh
Bill Ramsay, Critical Care Paramedic
Bill Tonidandel DMD,MD
Bill Treharn CRCST,ST
Bobbi Soper, RN
Bonnie Frey CNA
Brad Hornung RPh
Bradley Dick, MD, FACR
Brandon Newgard, MD
Brenda Lockington PA Director
Brenna Scofield, DNP, FNP
Brett Amestoy
Brett Duvall
Brian Jensen, RRT
Brian Lee, MHA
Brian McKeown, CPC
Brian Robinson
Brian Robinson
Brianna Goettel
Bridgid Crowley, MD
Britany Hoover RNC-OB
Britt Ballinger, NP-C
Brittany Lee, RNC
Brooke Clinch 
Bruce Tyler
Cailin Martello RN, CGRN
Caitlin Gallagher, MD
Callie Riggin, MD
Carey Phelan, DNP
Carissa Hatling
Carissa Petty, RNC 
Caroline Hammond, RNC
Carrie Mitton RN
Casey Kyler-West
Cassie Searle, PA-C
Cassie Warren RN
Cathy Hoveland, LPN
Cathy Lay, MD
Cecily Townsend
Chad Coulter, PharmD
Chad FitzGerald, Pharm-D
Channa Richardson, RPh
Charles Harmon, M.D.
Charlotte Skinner, RN-C
Cherie Bieber
Cheyann Gillespie, CNA 
Chloe Marsh Ortho Tech
Chloe Marsh Ortho Tech
Chris Caniglia, SLP
Chris Korow, Software Engineer
Christi Davis, TLAP
Christina Hudgens, MD 
Christine Erickson, LPN
Christopher Dumont RN
Christy Reiss
CINDY BEBEE, PBS
Cindy Bultena, MSN, RN
Cindy Garcia, Patient Billing Services
Cindy Johnson, Medical Coder
Cindy Von Bergen,  Medical HUC
Claire West, RN 
Cooper Lanier
Courtney Baldwin, BSN, RN
Courtney Radke, RN
Cynthia Overturf, RDN, CDCES, BC-ADM
Dale Koch, PT
Dana Osborne, MD
Dana Roberson, RN
Danielle DuBose Phlebotomist/Lab Tech
Danielle Redfield NP
Darby B,CMA 
Dave Ellis
David A. Krainacker, MD, PhD
David Boggs, MD
Dawn Denegar Nutrition
Dawn Gallinger, PhD
Dawn Hannawalt, Patient Access
Dayna Benson
Deb W. LPN
Debbie Berg, CLS
Deborah Matthis 
Debra Peterson RT
Dennis McAlpin
Devon Murray
Diana Lindstrand, Patient access
Diane E. Dean, CTR
Diane E. Dean, CTR
Diane Miller, CPC, CPC-H, CphT
Diane Nowak, M.D.
Don Cox, CPA
Don Schultz MD
Dr. Fred  C. Olson
Dr. Tiffany Kniepkamp, MD, FACEP
Dr. V. Lee Harrison
Drew Malany MD
Duane Thomas MD
Duanne Duane, PA Scheduler
Dwight Thompson, PA
Earl Book MD
Edward Peachey RN
Elaine Beaupre RN CEN
Elizabeth Grant, MD
Elizabeth Holper MD MPH
Elizabeth Miller 
Elizabeth Thomas, HTL
Elyse Demaray, RN
Emili Miller, MSW, SWLC
Emily Allen, LPN
Emily Bubbers,  MD
Emily Hedrick RNC
Emily Hedum, DO
Emily Sedgwick, RN
Emma Johnson, PA-C
Erica Buthod CNA
Erica Marxer RN OCN
Erin Carpenter, PharmD
Erin Green, DO
Erin Kimball, LTAP
Erin Large, RT(R)
Erin Peterson 
Gianluca Pisciarelli, BHU Director
Glenn Arlint Engineer
Guthrie Lewis, PA
GWENN ROGERS
Hannah Pocha
Hannah Sieracki, RN
Haylie Wisemiller, RN
Heather Mitton Patient Account Billing Representative
Heidi Bober RN CGRN
Heidi Simons, PharmD
Helen Schemm, RN
Hemanth Modadugu, MBA, MHA
Ilene Baumgardner, CPhT
Inna Bordewick PA-C
J.T. Hinman, PTA
Jack McMahon Jr MD
Jaelynne Harlan
Jaime Larese, RDN CTTS
Jaimie Bradley RNC
Jake Williams, PA-C 
James Bennett MD
James Mayberry
James Verlanic, MD
Jamie Seymour, BSN, RN
Jane O'Driscoll, PT
Jane Walker CRNA
Janet Gates RN MS
Janice Spencer Clinical Analyst
Jared Phelps, DO
Jarrid Watkins, RN
Jasmine Doom, CNA
Jayme Johnston,  Patient Access Specialist
Jayme Schneider
Jeff Radke, RN, CEN
Jenifer Dodge, MD, FAAFP, CMD
Jenn Doughty, RN
Jenna Cederberg
Jennifer Baker
Jennifer Colegrove, RDN
Jennifer Daly RN
Jennifer Gable, CCMA
Jennifer Marshall
Jennifer McKay, RNC
Jennifer Nye, RN
Jennifer Pappas
Jennifer Reinstadler, RNC
Jennifer Rude, CRCST
Jennifer Sinrud, RN
Jennifer Taylor BSN, RN, CCRN 
Jenny Bishop, RN
Jenny M. Chambers 
Jenny Taylor, Senior Director of Finance & People Operations
Jesica George, RT(R)
Jess Humber, RN
Jessica Bailey, MD
Jessica Bennett, RN
Jessica Lukenbill, RNC
Jessica M. Parson, MD
Jessica Smith, DO
Jill Wagenhals
Jim Tarver, MD
Joan Abramson PAS
Jodi Aschim, RNC
Jody Fletcher RN 
Joe Boule, CRT, RPSGT
Joe Murphy MD
John D Gleich
John Elliott, CBSPD
John Galt, MD
John Garcia
John Horning, MD
John Michelotti, md
Jonathan Griffin MD
Joseph DePaso RN-BC
Joseph Maslanka, CT,HT (ASCP)
Josh Hudgens, MD
Josh Payne, RN
Joshua Payne RN
Judy Buer, CCS, RHIT
Julie Kay TLAP
Julie Petre, PharmD
Julie Thompson RN
Julie Wyant
Julie Yates PBT
Justin Perry, MD
Justin Smith, MD
Kady Richards, RN
Kaity Deaton, PharmD
Kalia Simkins, OBT
Karen Farrow,CCMA
Karen McCarl, CPC
Kari Badger PT
Kari Koehler, RN, MSN
Karrie Bird, LCPC, MHPP
Kassidee Blood, MLS ASCP
Kate Garton, BHCA
Kate Sigafoos, PAS
Katharine Strizich BA, RNC
Kathryn Lamach, SWLC
Katie Barbee, MSN, RN
Katie Gallagher
Katie Jorgensen, OTR/L
Katrina Howarth, RN
Katrina Maher, MD
Katy J. Wessel, DO
Kaycee Shires (RT) (R) (M)
Kayla Morris, CNA
Kayla Nicholson, BSN, RN
Kelly Adams, RT(R)
Kelly Brown, LPN
Kelly Hunt, MN,RN,CNL
Kelsey Kyle RN 
Kelsey Wiegand, RNC
Kendon Anderson
Kendra Lenhardt
Kerry Hale, MD
Kerry P Morgan RN OCN
Kim Kurokawa, RN, MBA, CCDS
Kimberly Pepper, BCC
Kishore Karamchandani MD
Kolene Gardner
Krishana Stoddard, HUC
Krista McEachern RNC
Kristin Henson CPT
Krizia Brooks, PAS
Kyla Peterson, PT, DPT, OCS
Kyle Moore, D.O.
Kyle Spaulding, RN
Kyle Waeckerlin EVS 
Lacy Walters, PA
Lanae Williams, PA-C
Laura Bennett, MS, PA-C
Laura Plaska, RN
Laurie Coverdell Hall
Lee Bowlby CMD
Lee Travis, MD
LeeAnne Yonchek, PA-C
Lena Phelps, PA-C
Leslie Wilson FNP-C
Linda Tyre Rhit
Linda Zderick, PT
Lindsey Darfler
Lindsey Grubb, CNA
Linsey Hollow, RNC
Lisa Lian, RN
Lisa McMahon RNC
Lorri Earley, LPN
Luanne Tangedal, MS, RN
Lyndsay Smith, BSW 
M.J. Sarah Riggs, BSN, RNC
Mallory Taflan, RNC
Mandi Andersch
Marcia Rohrer
Marcie Rahm, RNC
Marcie Rahm, RNC
Marcy Reher
Margaret F Schaefer
Margaret F Schaefer NP.
Marie Dominguez, MD Hospitalist
Marisa Hardy, RN
Marjean Heisler, PT, MPH
Mark Kreisberg, MD
Mark Mitchell
Marlene Steinberg PAS
Marsha Eklund
Martha Poell, LPN
Martin Neubert, PAC
Martin St. John, PharmD
Mary Kay Linke RT(R)(CT)(MR)
Mary Middagh, FNP
Mary Overturf BS/BA 
Mary Runkel RN CCM
MARY SMITH RN
Mary Stevens, PT
MaryAnn Beach, PA-C
Matt Backus
Matthew Aakre, CLSp(MB)
Matthew Hoezee CNMT, NCT, CT
Matthew Hoffman, DNP
Mattie Andersen, LCSW
McCall Elverum, RN
Megan Carr, RN 
Megan Lewis 
Megan Zawacki, PA-C
Meghan Muench, MLS
Melissa Gerving RN CPAN
Melissa Reed
Melissa Tyvand, RD
Merrill Taylor, RN
Metta Barnhart, RNC
Michael Mondloch MD
Michael Sanders, RN
Michael Strekall, MD
Michael Turner
Michael Ziegler, RN
Michele Johnson
Michele Pomeroy, Phlebotomist
Michelle Krings, RHIA
Michelle Rush, MBA, CPHRM, CHC
Mikael Bedell, MD
Mikell Vince, RN BSN
Miyoko Fisher
Molly (Ravi) McKinney, RN MSPH
Molly Blythe, RNC
Molly Heiman, RN
Molly Litchfield, RN, BSN, CNOR
Molly Steffan, RN
Morgan Smith MD
Morgan Teegarden, PA-C
Nancy Ellison RN
Nancy L. Baylor LPN
Natalia Hayes, RN
Natalie Clausing, PT, DPT
Nicholas Maffei, RN
Nicholas Stringer, CNA
Nichole Peebles
Nicole Clark, MD FAAN
Nicole Henley, Hospice RN
Nikki Templin, CCMA
Olivia Coburn
Orpha Smigaj RNC
Pam Sasser, RN, ONN-CG
Pamela Walter,RN
Patti Hunthausen, RT
Patti Moody, PAS
Paul Clark
Paul K Perry, DO
Rachel Lunday RRT
Raena Whitney
Raeya Finkle, Patient Service Tech 
Ray Strutzel, OTR/L
Rebecca Morgan PAS
Reesi Marquis, RN
Rene Ingram
Renee Olsen, CLS
Rhonda Baxter, LPN
Rhonda Hinrichs
Riki Emerson, RN
Rob LaClair MD
Rob Maher MD
Robert Blank 
Robert Smith DO
Robin Richardson
Rochelle Quist, MN, RN
Rose Frank
Ryan Rickman CSCT
Ryan Winn
Sam Hunthausen
Sandy Waeckerlin, Pre-registration
Sara Churchill, RN
Sara Hancock, Lead Technologist Assistant
Sara O'Connell, MD
Sarah Ahmann Crowley, RN
Sarah Elliott, RN
Sarah Fenton, MD, FACC
Sarah Pemble
Savanah Miller ,MHT 
Scott Pargot, D.O. 
Scott Poortenga RN
Serena Martinell, RNC
Sevda Raghib RN, MSN, MHA
Shaelyn Lantz, CMA
Shannon Doom Physical Therapy Lead Tech
Shannon Hovde, RNC
Shannon Walden, MT(ASCP), MS
Shari Hagengruber
Sharon Corcoran-Hedstrom, LPN
Sharon Kohles, CCS
Shayla Barraclough, PharmD
Shaylee Sell
Shelby Doss, Paramedic
Shelly Harkins MD
Sheri Renney  
Sherry Green 
Sherry Kosena BSN, RNC
Shirley Konrad   Prior Authorization Specialist
Sofie Borzadek, CCMA
Stacia Winslow, RN
Starla Blank, PharmD, BCPS
Stephanie Bauch, RN, BAN 
Stephen Mest, M.D.
Steven Forsman RN
Steven G. Matthes, SR. Director Diagnostics
Stormy Lantz, MN, RN 
Sue Ditchey-Hellems, CNM, APRN
Sue Edelbach
Susan Wandrych LPN
Tami Schmitt, HUC
Tamra Arensmeyer, MLS(ASCP)
Tara Mercer, RDN
TASA THOMPSON PAS
Tawni Potts, RMA
Taylor Flynn, CMA
Ted Lanier RRT
Teresa Boyd
Teresa Patten, RDN
Terri Stevens
Tessa McGree, RN
Theresa Jensen, RN, BSN
Theresa Metropoulos, SLP
Tiffany Morse, CPhT
Tiffany Selong, DO
Tiffany Sturdevant, RNC
Tim Casey, PTA
Tim Ferber, MA CCC-SLP
Tina Stern, LCSW
TJ Lanier, PharmD
Todd B. Wampler, MD
Tolly Patten, RDN
Tom Richardson, PharmD, BCIDP
Tom Strizich, MD
Toni Easton CMA
Tony Huot
Traci Tonkovich, RN
Tracy Dill, MD
Tracy Hansen RN
Trent Jensen D.O.
Trish Dick - Board Certified Chaplain
Veronica Terry 
Vicki Ruzicka RN
Vickie Caldwell
Vincent Serumgard
Vonnie Fulbright, PAR
Wade Johnson 
Wayne Rada, E.V.S.
Wietske Wilma Zomer
William Gallea, MD
William Harper MD
William Kussman, Emergency Preparedness Coordinator
William Snider, DO
Zara Kunkler, MLS(ASCP)
 
Important note: We gave employees a short window to sign this letter so this does not represent all employees who support COVID-19 vaccination.