IMPORTANT: The screening sign-up process has changed. Please read all the directions below carefully.
St. Peter's Health is pleased to offer preferred pricing and a set of wellness services to Helena School District employees and families currently enrolled in the system's health benefits plan. Additionally, St. Peter's Health offers School District employees on the #1 Benefit Plan free flu shots at different locations throughout the community. 
WellNow! provides all the needed information on how to:
Schedule your wellness screening
Schedule your annual flu shot
Schedule a Wellness Screening 
Step 1: View or download the schedule below to pick a location and corresponding date that works best for you.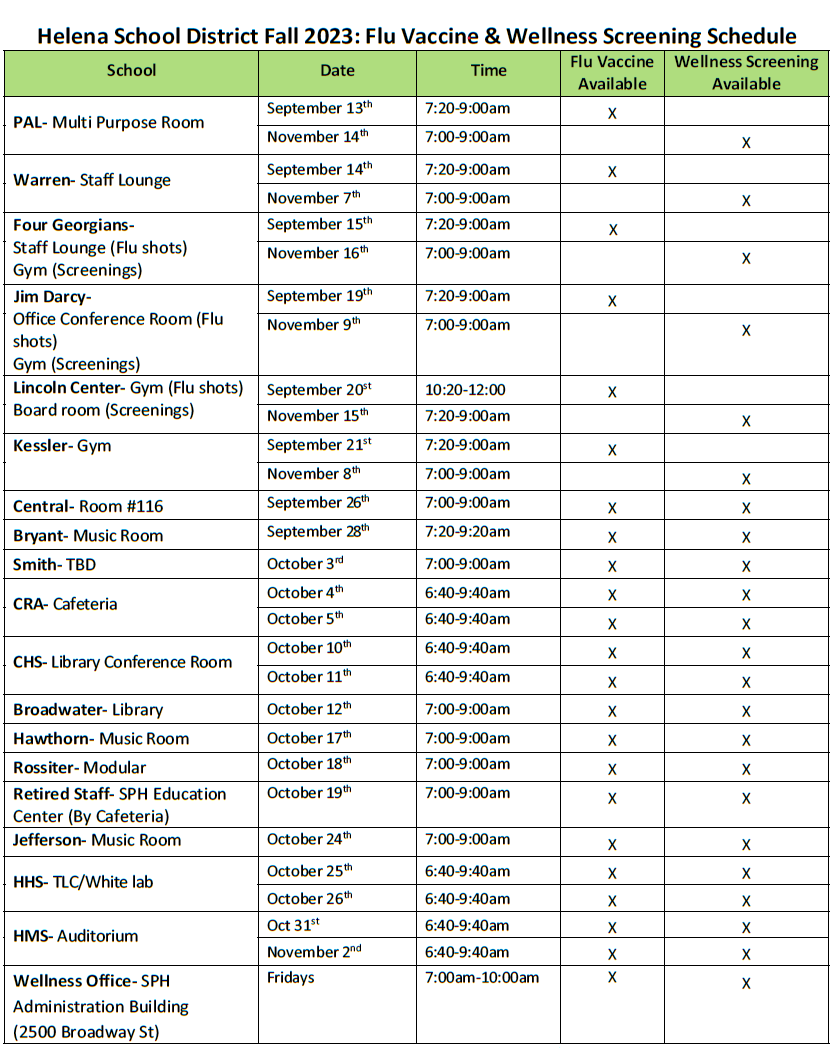 Step 3: Schedule your Wellness Screening in MyChart based off of your preferred location/date
UPDATE 8/31/23: Appointments will be available to sign up--TBD
Click HERE for MyChart scheduling instructions.
The final deadline to complete a wellness screening and recheck any values is June 28, 2024.
Schedule a Flu Shot
UPDATE 8/31/23: Flu shots will not require an appointment this year. They will be given on a walk-in basis. Please anticipate a longer wait time as we are documenting in a new system.
Please refer to the schedule above to see when and where flu shots are available.
---
Wellness Screening Forms
2023-2024 Wellness Informational Packet
Wellness Class Information 
Wellness Challenges & Classes
Freedom from Tobacco-Tobacco Cessation Classes
Health Coaching for Hypertension Control
Lifestyle Wellness