What is Meds 2 Beds?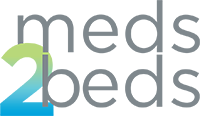 The Meds 2 Beds program offered at St. Peter's Health is a pharmacy service that gives patients the opportunity to receive discharge medications with one-on-one pharmacist counseling at their bedside prior to leaving the hospital.
An example of how Meds 2 Beds helps ease your transition home:
Martin was recently admitted with chest pain and has a new diagnosis of heart failure. He has been prescribed four new medications that he will now have to take for the rest of his life. The pharmacist meets with Martin while he is in the hospital and Martin enrolls in Meds 2 Beds. The pharmacist arranges for 30 days worth of medications to be delivered to Martin's hospital room. The pharmacist provides a detailed review of the purpose and side effects of each medication. Martin does not have to stop at a pharmacy to get his medications upon discharge, and he leaves with a clear understanding of how to take his medications and what side effects to expect.
How does Meds 2 Beds work?
We start with a brief introduction and brochure
A pharmacist or pharmacy technician will introduce the Meds 2 Beds program using a brochure, then ask if you would like to enroll.
If you accept the service, a pharmacist or pharmacy technician will obtain your insurance information and have you sign a waiver.
When your medications are finalized for discharge, your prescriptions will be sent to the St. Peter's Health Broadway Pharmacy to be filled.
When you are ready for discharge, your medications will be delivered to your bedside. Any copayment will be obtained at the bedside. Once payment is processed you will receive one-on-one medication counseling. Then, you are ready to go. No need to stop by the pharmacy!
If you need refills, you can contact your primary care provider or discuss refills at your hospital follow-up. Refills can be sent to the pharmacy of your choosing.
Meds 2 Beds Benefits
Eliminates the need to stop at a pharmacy after discharge.
Can help you successfully take your medications as prescribed.
Allows your family and/or caregivers to be involved in the discharge medication process.
A pharmacist provides detailed medication counseling explaining the purpose of your medications, how to take them appropriately, and important side effects.
Private one-on-one counseling with a pharmacist in your hospital room adds privacy.
We can work with your provider if a medication is not affordable to get an appropriate alternative.
Frequently Asked Questions
Can prescription co-pay costs be added to my hospital bill?
No. Prescriptions filled through the Meds 2 Beds program are considered an outpatient pharmacy service and cannot be added to your hospital bill. We will collect your copay when medications are delivered at your bedside.
Do you accept my prescription insurance plan?
Most likely. The pharmacy accepts most insurance plans. If your insurance does not allow prescriptions to be filled at our outpatient pharmacy, your prescriptions can be transferred to the pharmacy of your choosing.
What types of payment are accepted?
Credit cards and debit cards are accepted.
What if I do not have my prescription insurance card with me?
We can call your current pharmacy to obtain your insurance information. If you do not have prescription insurance, the pharmacist will evaluate all options for financial support or less costly medication alternatives.
Where is St. Peter's Health Broadway Pharmacy located?
St. Peter's Health Broadway Pharmacy is located on the 1st floor of St. Peter's Health Medical Group – Broadway Clinic, the building directly across the street from the hospital.
What happens when I am back home and my 30-day supply has run out?
Hospital staff will try to set up an appointment with your primary care provider within 30 days of discharge so you can request refills from your primary care provider.
How long will it take to fill my prescriptions?
Your prescriptions will start being processed as soon as the pharmacy receives the orders from the provider, and will be delivered to you prior to discharge.