The Post Graduate Year 1 Pharmacy Practice Residency at St. Peter's is a community hospital-based, ASHP accredited program. We offer high-quality teaching opportunities, led by a dedicated team of preceptors that will support and challenge you to accomplish your career goals.
Want to talk to us?
St. Peter's PGY1 program will be offering individual video chat sessions (via Teams) to allow interested candidates to talk with preceptors, residents, and the program director. This will offer you the opportunity to get to know us a little better and ask us all of your questions!
Time slots will be available on Wednesday, December 8, 2021 and Thursday, December 9, 2021. Please sign-up here:
'Excellent foundation of knowledge'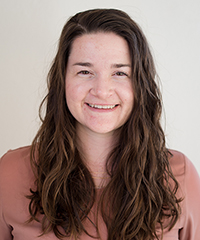 "The PGY1 program at St. Peter's Health provided an excellent foundation of knowledge to build on as I moved into PGY2 and a specialized field of pharmacy… Additionally, the preceptors gave me a home away from home during one of the most challenging yet rewarding years of my life."
~Stacy Harmon, PharmD  
2018 Resident Graduate
Top 5 Reasons to Consider St. Peter's PGY1
Broad learning experiences in a progressive practice
For a community hospital of our size, we offer a diverse and expansive pharmacy service. Our hospital has decentralized pharmacists located on most major inpatient units (ICU, Emergency Room, Medical, Surgical, Antimicrobial Stewardship, Transitions of Care, Oncology and Inpatient Psychiatry). Our ambulatory care clinics have several embedded pharmacists with varying and specialized roles. Additionally, St. Peter's is known for its progressive pharmacy practice that includes several unique pharmacist-driven protocols and collaborative practice agreements. You will have ample opportunity to practice at the top of your license during your residency year!
Growth and Expansion
With support from providers and administration, our inpatient and ambulatory pharmacy services have grown considerably over the past several years. Most recently, this includes significant investment into our Transitions of Care service to improve quality and safety for our patients. Our ambulatory care pharmacists have continued to expand into several unique areas including rheumatology, allergy, specialty pharmacy and post-acute care/home health.
Collaboration
Providers and nurses at St. Peter's Health are consistently reliant upon and supportive of pharmacists as a member of the team. In the ambulatory care setting our providers have helped facilitate several Collaborative Practice Agreements with pharmacists to improve chronic disease state management as well as other patient care initiatives. Preceptors frequently comment on how appreciative they are to have such cooperative relationships with our health care teammates.
Flexibility
We are committed to tailoring the program to each resident's interests. This is done in several ways, including research project selection, use of elective time, committee participation, teaching opportunities and administrative projects. Research projects are tailored to a resident's areas of interest whenever possible. In the past, we have had several residents create new services (and pharmacy positions) using their research data as justification for expansion.
Access to Montana's outdoors
The St. Peter's Health residency program understands the necessary balance of working hard and playing hard. During your time as a resident, we hope to provide a year that is challenging professionally but also includes enjoying the beauty of Montana. If you enjoy fishing, hiking, hunting, floating, mountain biking, winter sports, hot springs or craft brewery trips, Helena may be the perfect place for you!
About St. Peter's Health Pharmacy
The St. Peter's Pharmacy Department enjoys a progressive pharmacy practice that includes a broad range of collaborative drug therapy agreements and clinical services. The department is represented by highly qualified staff with a strong interest in teaching and mentorship.
Clinical pharmacy services are de-centralized to the following patient care areas:
Acute Care:
Intensive Care Unit
Emergency Department
Medical Floor
Surgical Floor
Oncology Floor
Antimicrobial Stewardship
Transitions of Care
Behavioral health
Peri-Operative Services
Ambulatory Care:
Primary care
Oncology
Rheumatology
Post-acute care
Allergy/Immunology
Anemia clinic
Specialty pharmacy
Learn more about St. Peter's here or connect with us on Facebook
Residency Information
The St. Peter's Health pharmacy PGY-1 practice residency program is a 12-month post-graduation, ASHP accredited training program that offers a variety of rotations and substantial program flexibility.
PGY1 residency programs build upon Doctor of Pharmacy (PharmD) education and outcomes to develop pharmacist practitioners with knowledge, skills and abilities as defined in the educational competency areas, goals and objectives. Residents who successfully complete PGY1 residency programs will be skilled in diverse patient care, practice management, leadership and education, and be prepared to provide patient care, seek board certification in pharmacotherapy (i.e., BCPS), and pursue advanced education and training opportunities including postgraduate year two (PGY2) residencies.
Pharmacists completing the St. Peter's PGY-1 residency program will function as independent, patient-focused practitioners who are able to provide high level pharmaceutical care in both community based inpatient acute care as well as ambulatory based clinical practice.
Additionally, graduates of the residency program will be qualified to:
Provide excellent patient care with a focus on community hospital practice
Seek advanced specialty training
Seek board certification by the Board of Pharmaceutical Services (BPS)
Precept and educate pharmacy residents and students
Provide leadership in various practice settings
Residency Benefits
Annual salary: $54,000
Medical, dental, vision insurance
Full support for selected pharmacy conferences (ASHP Midyear, Rocky Mountain States, MPA Winter CE and Spring CE)
Support for SIDP Antibiotic Stewardship Certificate
Free local gym membership to Capital City Health Club
Dedicated office and computer with ability to access network remotely
Scheduled project days/weeks throughout the year
Application Process
Application Process - See PhORCAS for most current requirements/deadlines
In order to be eligible for one of St. Peter's three residency positions, applicants must:
Be a graduate of an ACPE accredited Doctor of Pharmacy degree program
Meet requirements for employment at St. Peter's Health
Hold U.S. citizenship
The following material must be submitted to PhORCAS by the first Monday in January of each year:
Letter of intent that includes why you chose to apply to the St. Peter's residency program
Curriculum Vitae
Three letters of recommendation
Official pharmacy school transcripts